Feeding the world's spiralling population as we cope with the ravages of climate change will be the focus of this year's TropAg International Conference in Brisbane from 31 October to 2 November 2022.
More than 800 delegates from 30 countries will help celebrate the fourth TropAg, with a stellar line-up of high-profile speakers who are "Shaping the Science of Tomorrow", the theme of the gathering.
TropAg Conference Chair Professor Matthew Morell said innovation was key to rethinking the way the world farms.
"The world is facing a confluence of problems; population growth and an increasing need for food production as producers and industry deal with the environmental impact of a changing climate whilst trying to increase productivity in a sustainable way," Professor Morell said.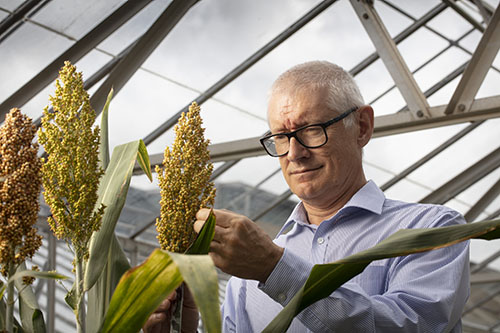 "Those of us in the tropics and sub-tropics are on the frontline of such impacts."
Professor Morell said with the global population likely to top 9.8 billion by 2050, the supply of sustainable food sources was a priority.
"We need to take advantage of technological developments to consider and implement new ways to produce the amount of food the world needs," he said.
"What we are facing is grim, but we have the skill, technology and science to tackle it head on.
"Our scientists are at the forefront of the technologies that are changing the world and are making the most of revolutionary changes in plant breeding, protected environments, artificial intelligence (AI) and machine learning, all of which will be necessary to provide for the changing world and increased demand for food.
"Current agricultural and food systems have a significant environmental impact, and we need to change that to be more sustainable"
From 31 October to 2 November TropAG will bring together leading industry and scientific voices actively involved in advancing research in the field of tropical and sub-tropical agriculture and food production at the Brisbane Convention and Exhibition Centre.
The six plenary speakers will cover subjects ranging from crop, livestock and horticultural production, energy from livestock waste as well as food and nutrition sciences.
The packed three-day program includes over 250 symposia presentations linked to six themes:
Agribusiness, value chains and the bioeconomy

Predictive agriculture

Sustainable agrifood systems

Healthy agriculture and food for healthy communities

AgFutures - showcasing innovation and investment in Queensland agriculture, and

Harlan - exploring the history of agriculture and the evolution, conservation, and use of genetic resources
"TropAg is the perfect opportunity for the sector to review and consider the technologies and implement state of the art methods to ensure sustainable food security for all," Professor Morell said.
"It's the premiere agriculture conference in our region, and a rare opportunity to hear from world-class researchers, scientists and stakeholders."
The TropAg conference is hosted by The University of Queensland in partnership with the Queensland Government via the Department of Agriculture and Fisheries.
TropAg is backed by generous sponsors including the Australian Centre for International Agricultural Research, Grains Research and Development Corporation, Illumina, Hort Innovation, Queensland University of Technology, AgriFutures, MineARC Systems, Australian Plant Phenomics Facility and many other organisations supporting as symposium sponsors, scholarship sponsors, exhibitors and media partners. View the full list of sponsors on the TropAg website.
Media contacts: Natalie MacGregor, n.nmacgregor@uq.edu.au; +61 (0)409 135 651, Carolyn Martin, carolyn.martin@uq.edu.au, +61 (0)439 399 886.
Photos and images available from Dropbox 
More information: www.tropagconference.org
The TropAg conference will be held from Monday 31 October to Wednesday 2 November 2022 at Brisbane Convention and Exhibition Centre.

TropAg conference program 
TropAg conference registration options 
(Note: The early bird discount on conference registration ends 11:59pm on 31 August 2022.
The Queensland Alliance for Agriculture and Food Innovation is a research institute at The University of Queensland supported by the Queensland Government via the Queensland Department of Agriculture and Fisheries.