Engagement
At QAAFI, our agricultural and food science researchers have developed extensive relationships with Australian and international farming communities, industry and government agencies. Strong collaboration is at the heart of QAAFI's research effort. We partner with organisations across the globe to facilitate mutually beneficial collaborations, which can be leveraged to secure further research funding and to attract the best minds to work on key challenges in the agriculture and food industries.
QAAFI research by industry
QAAFI collaborates with institutions and organisations across the globe to translate complex science into products and improved management and sustainable food production systems. We are committed to research excellence and impact in tropical agriculture and food production systems. Our unique combination of science and technology and a tropical and sub-tropical environment means that Queensland is the natural leader in this area of science globally.
We partner with the Queensland Government across tropical and sub-tropical Queensland. Our global engagement spans more than 30 countries.  
QAAFI works with industries and agribusiness, research organisations, manufacturers and processors to improve productivity and profitability pre and post-farm gate.
Innovation in Digital Agriculture
From GMOs and GPS, to remote sensing, genomics, AI and blockchain – our digital and data-driven technology is transforming agriculture and food across the supply chain.
The digital revolution continues to transform agriculture, in the way it has transformed other key industries, such as telecommunications, banking and mining.
Digital agriculture makes use of integrated and connected computerised tools and information, to improve decision-making and productivity across all stages of food production – from genetics to farm management, transport and to the consumer.
Agriculture is yet to experience the full effect of digital technology but leads the way in some of the frontier digital sciences, such as linking remote sensing and predictive systems with genetics and genomics. Read more about digital agriculture.
#1
Agricultural patents lodged in Australia - UQ (2015 Thomson Reuters)
30+
Countries collaborating in research
210
Active research contracts (2018)

QAAFI collaborates with over 30 countries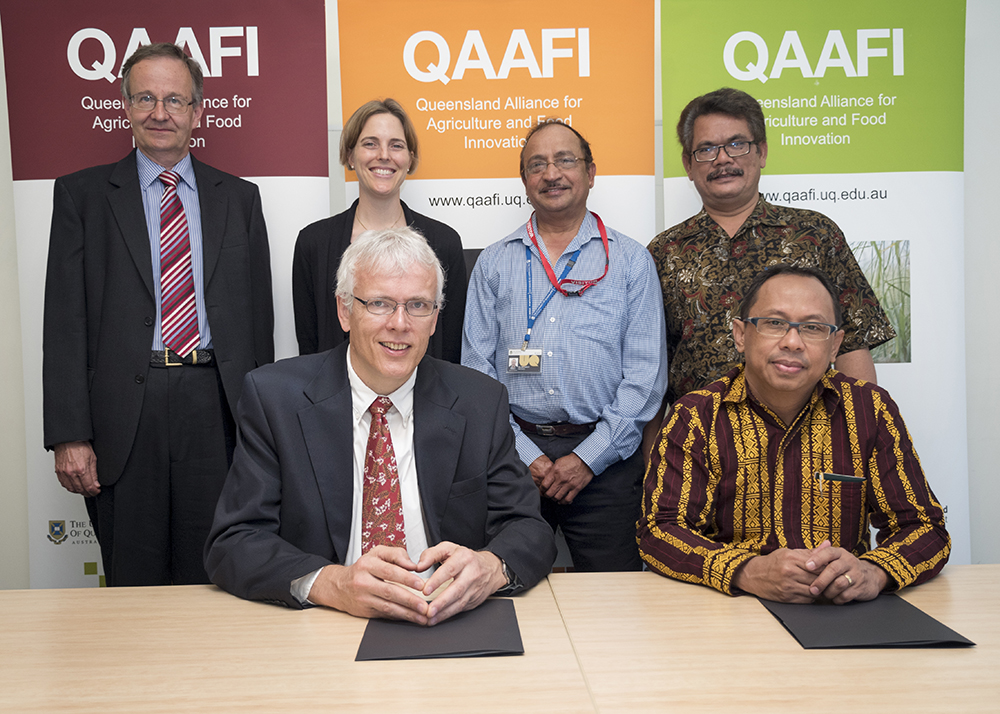 Working with QAAFI
Our industry partnerships take many forms, including joint research, commercialisation and licensing deals, scholarships, graduate study and employment programs and philanthropic foundations.
The sorghum story is a strong example of what is possible when there is significant targeted investment in breeding and agronomic research, and a long-term commitment.
A new vaccine offering season-long protection could play an important role in the battle against cattle ticks by reducing reliance on acaricides – pesticides which target ticks and mites – and allowing producers to move cattle from tick free to tick endemic areas. Researchers are also trialling a new single-dose tick vaccine delivery system.
In the International Year of Pulses, scientists are aiming to double the area in Queensland's tropics and subtropics sown to these healthy, and often very profitable, legume crops.
Connect with us
--- Subscribe to e-newsletter
Subscribe to QAAFI Science Seminars