Extract of an
article
by Mark Griggs published by The Land on 3 December 2020
Good animal welfare and animal husbandry procedures using pain relief have taken off massively in Queensland, according to Queensland Alliance for Agriculture and Food Innovation senior research fellow Geoffry Fordyce.
The University of Queensland researcher said there had been widespread voluntary uptake of the use of analgesia in husbandry procedures, particularly for calf dehorning and castration.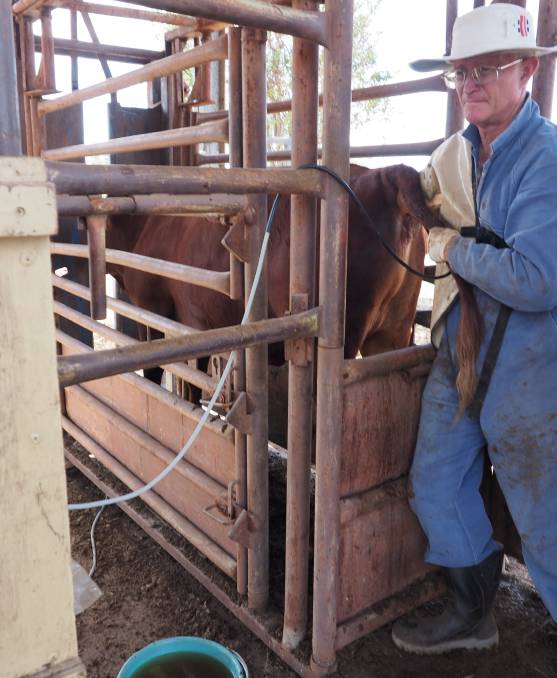 "Dehorning, disbudding, castration and branding are painful procedures," Dr Fordyce said.

Two main products used for pain relief areTrisolfen and Meloxicam.

"Big pastoral companies in Queensland are now using both drugs in some cases, recognising their social licence to operate and respecting their animals," he said.

Dr Fordyce said that in most states there was a requirement for animals over six months for a veterinarian to perform procedures using appropriate sedatives, analgesics and anaesthetics.

"But increasingly people are branding younger calves and are not dehorning anywhere as much and have been moving to disbudding," he said.

"These practices are being done at an earlier age when animals are one to three months old.

There has also been a big move towards breeding polled cattle to eliminate dehorning."

Dr Fordyce said an interesting challenge for the future was castration.

"In Australia, North America and South Africa we still castrate," he said.

"Most of the rest of the world doesn't. They eat entire beef. And the research shows this is fine, but at this stage in Australia, we have not developed systems to deal with entire males.

"However, I foresee Australia increasingly adopting bull beef consumption which is standard practice in most countries in the world.

"Research has shown you can't tell the difference in beef from an entire or steer of the same age when finished at a young age."
---
Contact: Dr Geoffry Fordyce, Senior Research Fellow, Centre for Animal Science, QAAFI, The University of Queensland, g.fordyce@uq.edu.au, +61 428 109 062.
Read full original article Mulesing bill has been put to bed, for now by Mark Griggs published in The Land on 3 December 2020.
---
The Queensland Alliance for Agriculture and Food Innovation is a research institute at The University of Queensland supported by the Queensland Government via the Queensland Department of Agriculture and Fisheries.