East Arnhem land is a fascinating place with vibrant, striking colours of red dirt, green leaves on the trees and the bright, bright blue sky. I step off the plane and the humidity envelopes me, a never ending thickness in the air that drips down my face and back. This is my second trip to East Arnhem Land and I am excited to be back. I've travelled 2400 km north-west from Brisbane to Gove, Nhullunbuy and Yirrkala so that I can meet with the community as a part of my studies on the native Australian green plum. I am doing a PhD at the Queensland Alliance for Agriculture and Food Innovation (QAAFI) at the University of Queensland which focuses on the green plum, fruit of the tree Buchanania obovata.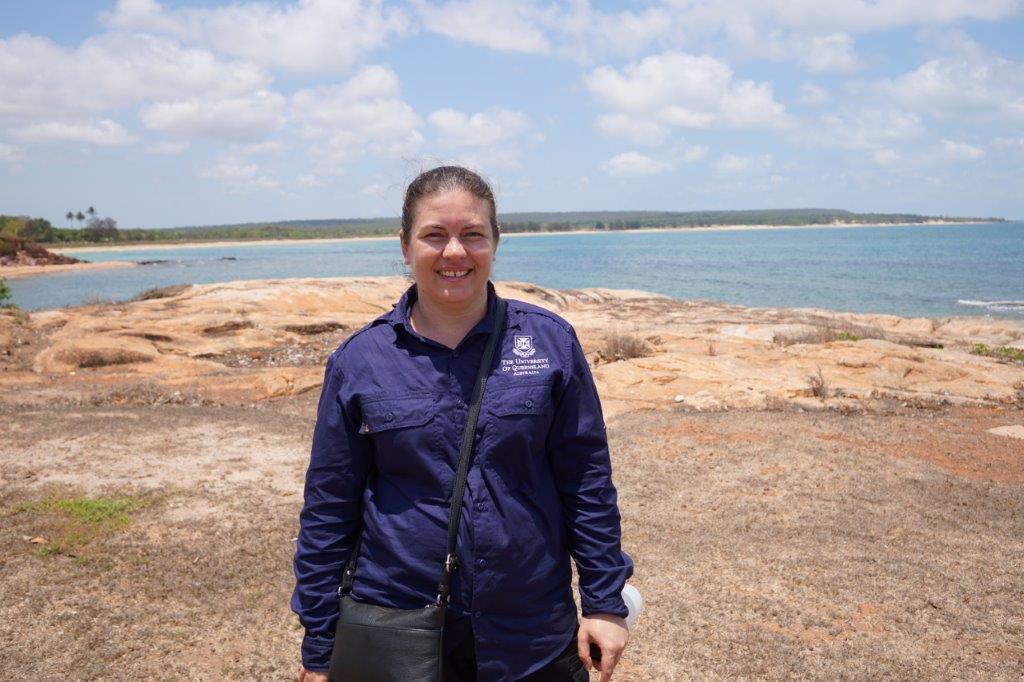 Travelling with me on this trip is the principle supervisor for my PhD, A/Prof Yasmina Sultanbawa and two of our international collaborators, Prof Philippe Schmitt-Kopplin from HelmholtzZentrum Muenchen and Technical University of Munich in Germany, and A/Prof Dharini Sivakumar from the Tshwane University of Technology in South Africa. Yasmina and I came here together last year, but it's the first time for Philippe and Dharini.
We drive along the dirt roads and go past green plum tree after green plum tree, some trees are small, just a foot off the ground, and others are big, reaching several metres high. Some trees have just a few fruit on them and others are laden with thousands. It's easy to see why it's such a popular fruit, the trees are prolific. Occasionally a wallaby is seen ahead of us and we slow down to look, though they quickly jump away when the car comes near.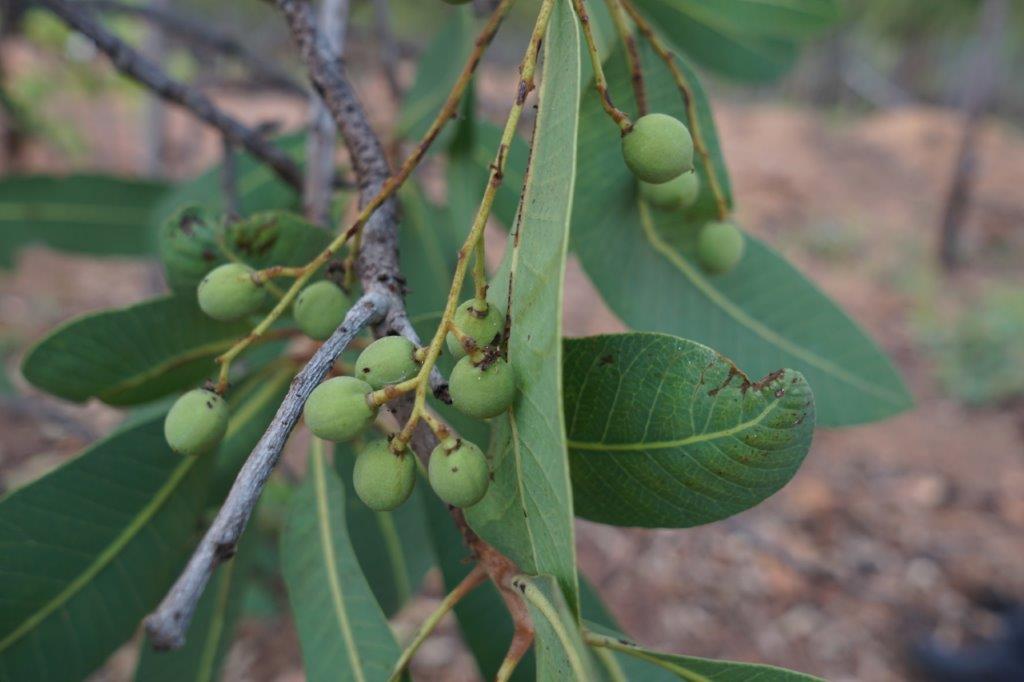 As well as being everywhere, the green plum fruit is probably one of the most delicious foods I have ever tasted. The people who live here love them and so do I. They taste very sweet and a bit like stewed fruit. When I did sensory analysis on them last year there was an overwhelmingly positive reaction from the panel members who all thought they were delicious. This time though we are not eating any of them. The harvest is late this year and the fruit is still green on the trees.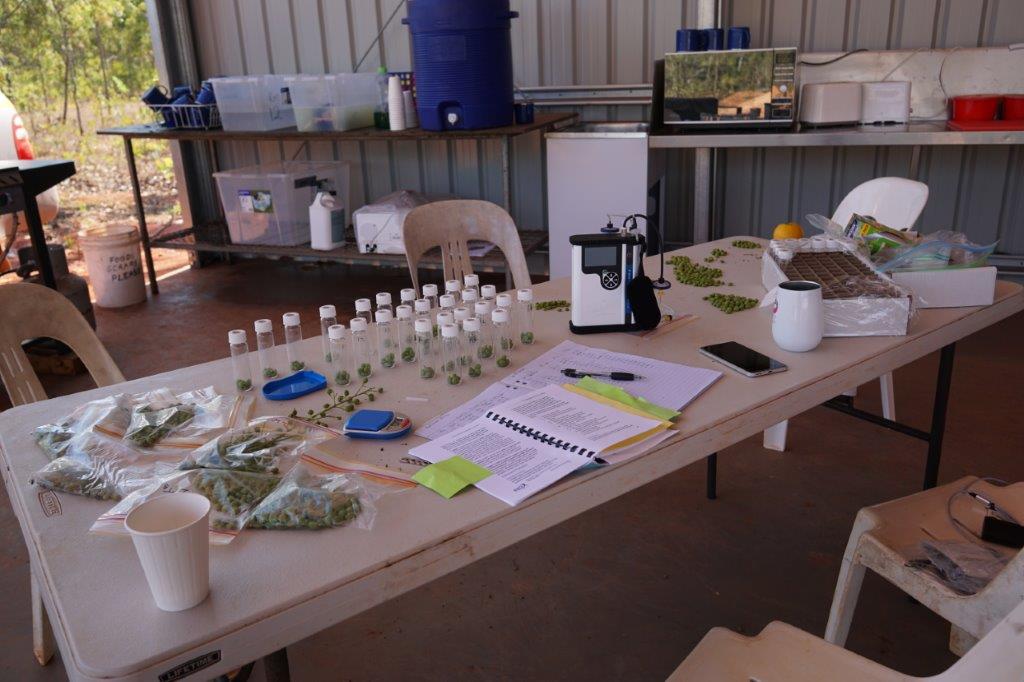 We came here last year at the invitation of the environmental rehabilitation program for Gulkula Mining Company which is owned by the Gumatj Corporation, the Aboriginal clan of the Yolŋu people whose land it is on. Gulkula is Australia's first Indigenous owned and operated bauxite mine and the plant nursery is the first Indigenous owned plant nursery to be licensed in the Northern Territory. We arrive at the mine and it's great to see familiar faces smiling to meet us. Last year we harvested green plums with Kevin Wanambi and Maylla Wunungmurra and it's so nice to see them again and check out all the plants they have been growing in the nursery. They have been growing green plum tree's here and show us the most recent ones, some of these tiny trees have fruit on them already. Later, Kevin, Maylla and some of the other local mine workers take us for a walk through the tree's and vegetation nearby. They show us more green plum trees and some of the other plants they harvest from and grow. We walk through the tree's and I recognise a few of the bush food ones, I am fascinated by how much Kevin and Maylla know and how much there is to see. Kevin reminds me that on the first day we arrived last year a storm came through which was the first rain of the season, and I smile, it was special for all of us.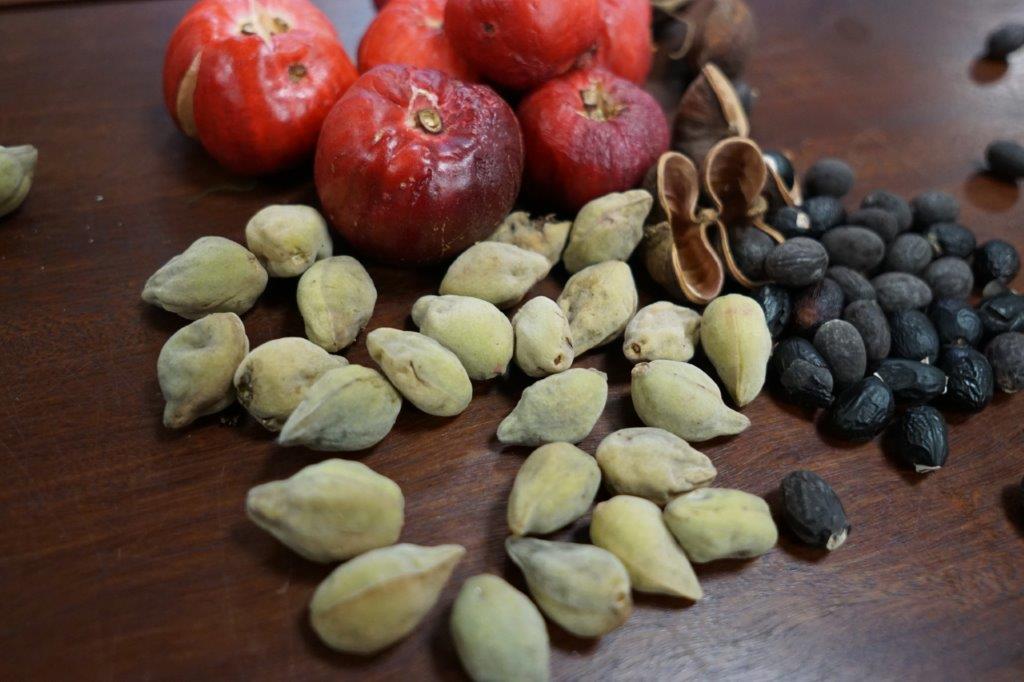 It was through Gulkula mine that we first met Annemarie van Doorn, and this year she has organised more community meetings for us. We have three community meetings while we are here. In the first one we present our green plum results and about our work to some of the local rangers and senior students from the local school. The next day we talk to a men's group and then a women's group. It's great to be able to share what we have done with the people and speak of the nutritional properties of the green plum. After talking to some of the ladies about green plum, they take us to some nearby tree's and show us other native fruit they eat. I try blue cheese fruit for the first time. It's also known as noni fruit and has such a strong flavour that tastes exactly like blue cheese. Eating it is a strange experience, tricking my brain into thinking I was eating blue cheese from the flavour but with such a different texture that I associate more with fruit than with cheese. The ladies are lovely, gentle and kind, they take us down to one of the most spectacular beaches I have ever seen and show us more of the plants and foods that abound here.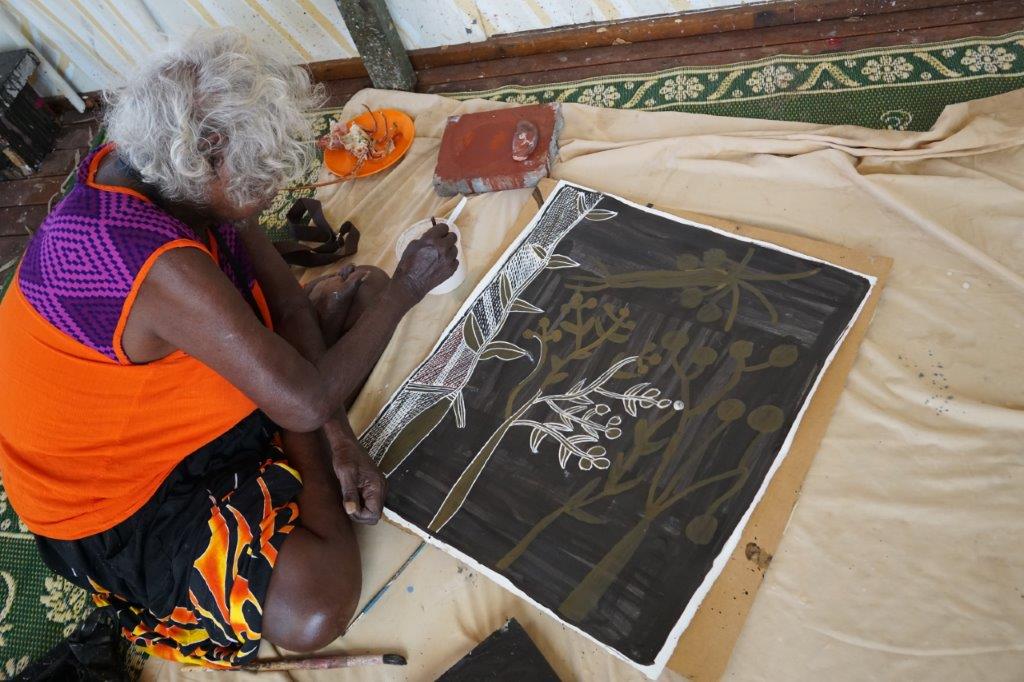 East Arnhem Land is full of inspiring people, both Indigenous and non-Indigenous. One of the most inspiring is a Yolŋu lady named Mulkun Wirrpanda. I first heard of her when Yasmina and I were in Darwin and saw bush food paintings she had done for an exhibition and book called Midawarr/Harvest: The Art of Mulkun Wirrpanda and John Wolseley. Mulkun paints bush foods to encourage the younger people in her community to eat them. Her paintings are beautiful and intricate. She produces line paintings which are traditional in this part of the Northern Territory. Her paintbrush is made from hair and she uses the traditional paints that she colours by hand. I met her on the first trip up here at the Buku-Larrnggay Mulka Centre at Yirrkala, and now we meet her there again. We have been asked to buy artwork for a new building and Mulkun's art is the logical choice. She paints a new painting for us and over the course of our week we visit each day and see the progression she makes. We are honoured that she paints green plum, a very special nod to our work on this fruit but also a very popular fruit here. Some young ladies who work in the Print Space show me how they make prints of artwork by local artists including Mulkun, it's a fascinating fusion of traditional art and modern print methods. I buy a small painting of a shell while I am here and a woven basket. As well as art they also sell books so I get a copy of Song Spirals, the new book written by Gay'wu Group of Women from this community. It gives amazing insights and descriptions of the culture of the people in Yirrkala and East Arnhem Land. The art centre is a special place, and each time we return we look at more of the art from people in this community.
We board the plane and I think of all the people I have met and how kind they have been. I feel like I understand a little more of the culture, just enough to realise how much I don't know, the culture is deep and beautiful and I appreciate the connection to country, to bush foods and to each other that the people here have. I am excited to continue studying green plum. It has provided me with opportunities to meet new people and see new places. I look forward to returning and sharing more of our green plum studies with the people here who grow and eat it.
---
CONTACT: Selina Fyfe, PhD candidate, Centre for Nutrition and Food Sciences, Queensland Alliance for Agriculture and Food Innovation, The University of Queensland, Email: selina.fyfe@uq.edu.au