Territory Government grants have helped Aboriginal people find the perfect recipe for a successful bush tucker nursery in Arnhem Land.
Support under the Aboriginal Employment Program enables the Gulkula nursery to employ Aboriginal supervisors and an all-Aboriginal work crew.
And an Aboriginal Responsive Skilling Grant funded non-accredited training for the building of the nursery, as well as the production of seed propagation and tube stock tables.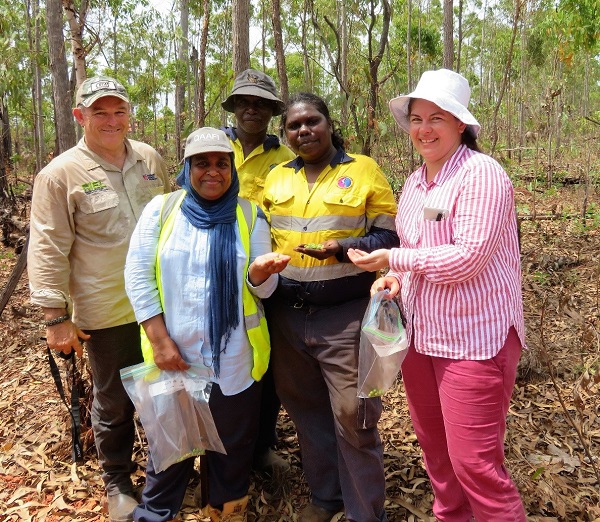 Mine Manager Ken Kahler says benefits of the Bush Food Project include:
long-term employment for local Aboriginal staff
improved economic and social wellbeing of Aboriginal communities by developing a culturally and economically viable business
linking social, environmental and economic goals by ensuring the project has achievable objectives identified after consultation with Traditional Owners
enhanced partnerships, linkages and trust between community, government and the private sector in developing the capacity of Aboriginal communities to take part in the real economy
provide technical expertise, mentoring and hands-on training on country for existing and new mine projects.
Gulkula environmental advisor Annemarie van Doorn says the nursery supports the land rehabilitation program at Gulkula, including the collection and growing of local plant species.
One of the nursery workers, Mayila, says: "I am Dhalwangu man from Gurrumuru and I work in the Gulkula nursery from Monday to Friday.
"My favourite part of my job is seeing the plants grow after I have planted them. It's like seeing life grow in front of you."
Gulkula held a bush food workshop late last year that attracted senior Gumatj clan members, Dhimurru and Yirralka rangers, and specialists from Charles Darwin University and the University of Queensland.
"There was great interest and enthusiasm for the bush food industry by all the workshop participants," says Dr van Doorn,
She says there are many lessons to learn from the commercial success of the Kakadu plum.
Laboratory analysis shows that the green plum has good commercial potential; other species with potential include acacias, native peanut, wild peach and native yams.
The emphasis is on species that are important to Yolŋu people.
Gulkula has been working on propagation techniques and planting of bush foods in rehabilitation areas since last year. Gulkula will continue working with researchers on the Bush Food Project.
The work has provided a deep insight into the flora species of the Dhupuma Plateau and their cultural importance.
---
Source: Article first published by the Northern Territory Dept of Trade, Business and Innovation, 30 May 2019.