Over 50 people attended the 6th Animal Science Poster Olympics 2021 hosted by QAAFI at The University Queensland on Friday 19 February 2021. 
Animal science researchers from UQ, QUT and CSIRO exhibited 27 posters and delivered presentations to industry judges during the event.  Authors of nine scientific posters received a prestigious award including a certificate and prize supported by generous sponsors.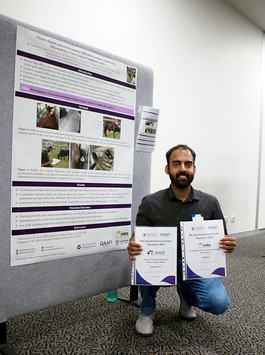 Muhammad Kamran winner of the Innovation for the red meat industry award, supported by Meat & Livestock Australia (MLA) said "It is a great honor to receive "Innovation for the red meat industry award". This event provided a fantastic opportunity to meet the multidisciplinary researchers. I am thankful to the organizers, judges, and sponsors for appreciating the research work. I will use the prize money to attend a relevant conference or training course."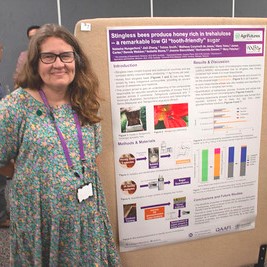 Dr Natasha Hungerford winner of the Animal Science Innovation award supported by Boehringer Ingleheim said "I'm honoured to win my prize for our research on stingless bee honey. It's been a very collaborative project with many contributors to date. It was great to get such positive interest in this research. We thank the sponsors of the award."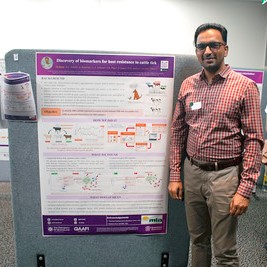 Dr Ali Raza winner of the Future Farming – New science that will benefit Animal Health award, supported by Virbac Australia Animal Health said "After so many virtual catch-ups, it felt great to physically attend a wonderful event with a great bunch of Animal Scientists from all over UQ and CSIRO, and winning a prize was the cherry on the top."
The coordinator of the event Prof Ala Tabor thanked all competitors, judges and sponsors for their support.
Award

Winner and Runner Up

Future Farming – New science that will benefit Animal Health award ($1,800 prize) supported by Virbac Australia Animal Health. Open category. 

Winner: Dr Ali Raza (QAAFI)

Runner up: Hyungusuk Kang (SAFS)

General Animal Science Research award ($1,000 prize) supported by the Centre for Animal Science, QAAFI the University of Queensland. Open category.​

Winner: Yue Yuan (Chem Eng-UQ)

Runner up: Kirsty Mols (SAFS)

Animal Science Innovation award ($1,500 prize) supported by Boehringer Ingleheim. Open category.

Winner: Dr Natasha Hungerford (QAAFI)

Runner up: Dr Mukund Madhav (QAAFI)

Animal Production Research award (AAAS two year membership prize) supported by the Australian Association of Animal Sciences. Open category.

Winner: James Copley (QAAFI)

Runner up: Muhammad Kamran (QAAFI)

Best livestock genetics poster award ($500 prize) supported by Beef Central. Open category.

Winner: Emily Mantilla Valdivieso (QAAFI)

Runner up: Dr Elizabeth Ross (QAAFI)

Best poster presentation award (Cattle Baron 'A game of high steaks' board game prize) supported by Beef Central. Open category.

Winner: Agnes de la Cruz (SVS)

Runner up: Gloeta Massie (SVS)

Innovation for the red meat industry award ($1,500 prize) supported by Meat & Livestock Australia (MLA). HDR students only.

Winner: Muhammad Kamran (QAAFI)

Runner up: Zhi Hung Loh (QAAFI)

Innovation for the poultry industries award ($1500 prize) supported by Chook Shack Chat (Agrifutures, Australian Eggs, Poultry Hub Australia). HDR students only.

Winner: Annaleise Wilson (CSIRO)

Innovation for the poultry industries award ($2000 prize) supported by Chook Shack Chat (Agrifutures Australia, Australian Eggs, Poultry Hub Australia). ECRs only.

Winner: Dr Lida Omaleki (QAAFI)
Thank you to our sponsors for 2021