GroundCover™ Issue: 137 November - December 2018 | Author: Liz Wells
Big data and targeted research are coming together to provide growers with more options to help them get the most out of crops such as sorghum and wheat
Professor Graeme Hammer is about to step out of his role as the founding director of the University of Queensland (UQ) Centre for Crop Science to devote his time to research projects targeting new approaches to advancing crop productivity while dealing with climate risks.
The interactions of genetics, environment and management (G x E x M) are his focus, and Professor Hammer says they are gaining traction as crop and climate modelling and plant breeding come together to support growers in making more informed choices about varieties and management.
From 1 January, Professor Hammer will become one of the centre's Professorial Research Fellows.
"Trajectories into the future are what we need to look at, because we can't rely as heavily as we did on historical climate data to point to the future climate," Professor Hammer says.
"This is particularly relevant for the work we have been doing on the physiology and genetics of heat tolerance in sorghum and wheat."
It also relates critically to the crop–water balance.
Professor Hammer says management, including row configurations, varietal selection and time of planting, can help growers manage available water and maximise yields.
"Growers are faced with having to handle ridiculous and extreme climate risk, and make decisions when the season can be different to what history has led them to expect."
Professor Hammer says developments in the genetics and management of sorghum, as the major summer grain crop of the northern region, are showing exciting potential.
Working with Professor David Jordan, Professor Scott Chapman, Associate Professor Daniel Rodriguez and Professor Mark Cooper, who has returned to UQ after working in the private sector in the US, along with genomics expert Professor Ben Hayes, Professor Hammer is confident more improvements in sorghum are on the way.
"We've got the dream team in this space, and we're using prediction-based technology for crop improvement," Professor Hammer says.
"We now have the critical mass for transformational developments in crop improvement on a national and global scale."
Professor Hammer says sorghum can be a 10 tonne per hectare crop, or a failed crop, depending on soil condition, seasonal climate, variety and management.
"What we want to do is change the plant and its management so it can do better in more seasons.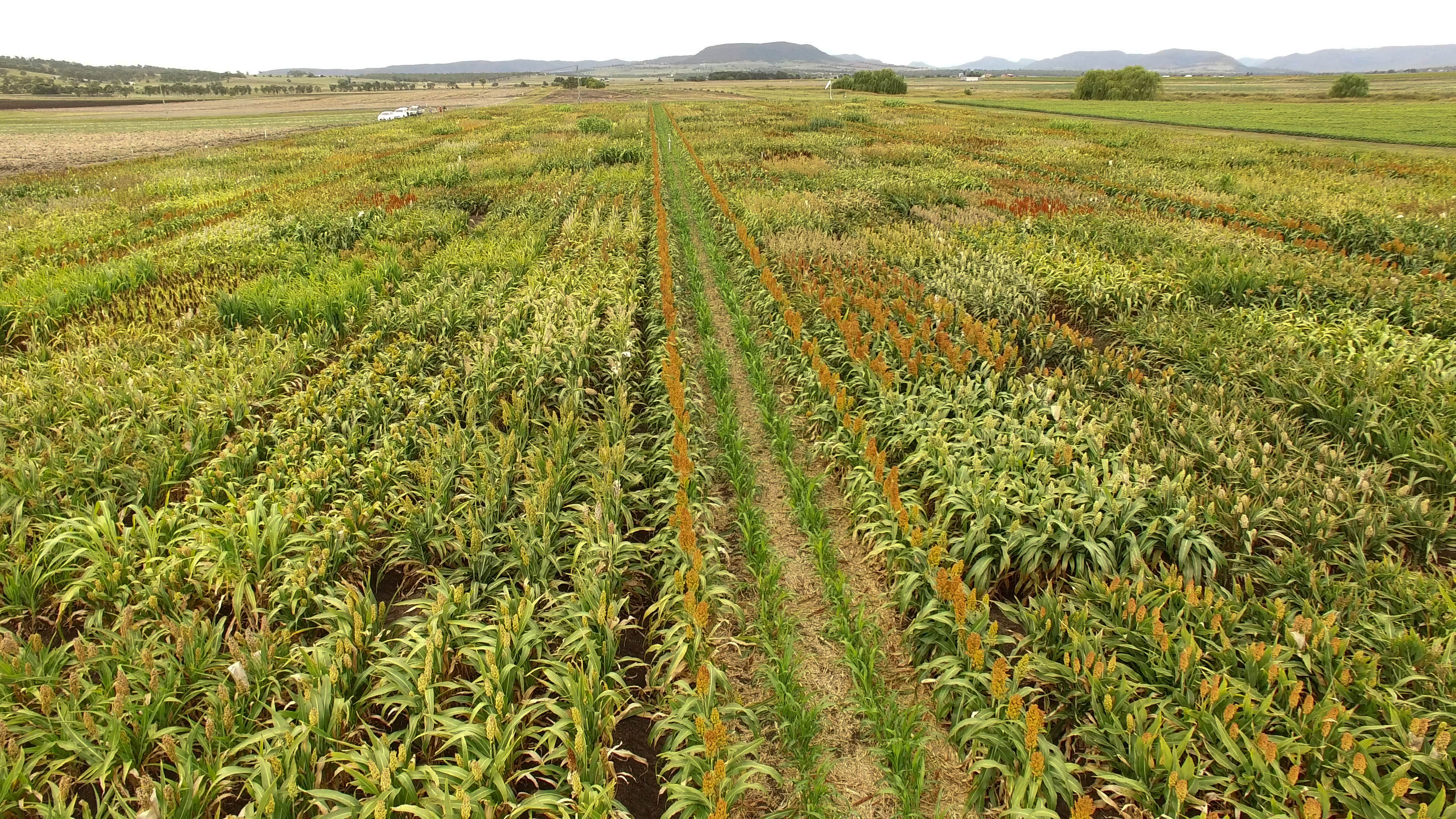 "That connects with the revolution in genomics, which has changed from people just sequencing everything because they could, to the point we're at now, where we can connect crop models with genetics controlling specific traits. It's putting big data to work."
Professor Hammer says models have provided a critical bridge between technical sequencing and decisions for growers, with breeders and agronomists in the middle.
"The models helped to identify the key traits people growing crops needed to have available."
Specifics include the genetic regulation of tillering, where varieties with fewer tillers can be grown in riskier seasons.
"You might lose the top end of your crop's yield potential, but you're not going to burn all your water before you get to flowering.
"It's about having the best information available to manage the profit–risk trade-off."
While shifting his attention to concentrate on such future challenges and opportunities, Professor Hammer will maintain his role as the UQ node leader of the Australian Research Council (ARC) Centre of Excellence in Translational Photosynthesis, and ARC's project on heat tolerance in sorghum.
And through UQ's stake in the Queensland Alliance for Agriculture and Food Innovation (QAAFI), he will continue to work on the Agricultural Production Systems sIMulator (APSIM), which he was instrumental in initiating.
Since its start-up in the 1990s, APSIM's abilities have evolved from evaluating the best ways to use plant-available soil water and seasonal forecasts based on El Niño–Southern Oscillation (ENSO) predictions to exploring options for cropping system intensification and supporting novel approaches to plant breeding.
"The focal point was connecting long-term weather records with crop models to better determine the risks we are facing and using that information to support decisions.
"We quantify the risks and benefits of different options, such as the chances of a good or early crop, or the trade-off between high yield potential and downside risk.
"We're trying to help people see beyond the current season, and how to manage a cropping system in the longer term."
This longer-term approach is one that Professor Hammer developed in his first posting in Darwin when, armed with knowledge from his studies in ecology, forestry and mathematics at the University of Melbourne, he was building models of native cypress pine forest growth.
"Forestry made me think about system dynamics – about managing a forest for more than 80 years," he says.
More Information
Professor Graeme Hammer
g.hammer@uq.edu.au