At the Queensland Alliance for Agriculture and Food Innovation, we have developed the world's first successful pipeline for avocado tissue culture. With ARC-Linkage funding, our team of researchers, growers and the Queensland Department of Agriculture and Fisheries demonstrated complete proof-of-concept from Lab to Orchard.
Our system can produce up to 500 clonal plants from a single shoot-tip in culture within 8 - 12 months. Now, with funding from an Advance Queensland Innovation Partnership (AQIP), we have teamed with Central Queensland University (CQU) and the University of Southern Queensland (USQ) to deliver this technology.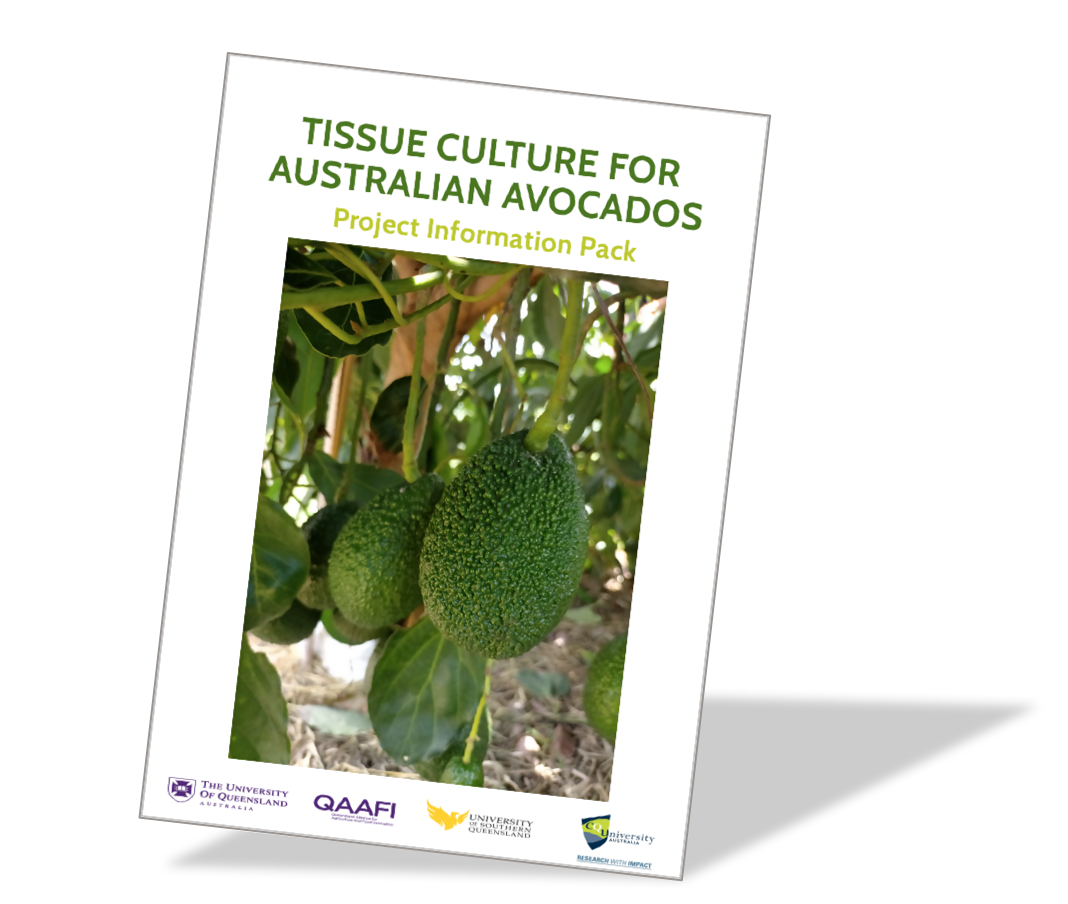 Tissue Culture for Australian Avocados
Project Information Pack
Nursery production of elite avocado clonal plants with desired high-quality rootstocks in expected quantities is challenging. This has imposed extended waiting periods for growers to obtain nursery trees.

This project aimed to improve the efficiency of clonal avocado rootstock propagation through tissue culture (TC) technology to propagate true-to-type rootstocks of the highest quality year-round, to eliminate the constraints of conventional clonal propagation.

Across a three-year timeframe, this project has delivered a holistic feasibility study of tissue culture technology. This was achieved by developing the technology; undertaking in-field plant trials; evaluating economic commercial feasibility; and investigating industry readiness and perceptions about the use of the technology, through a partnership between The University of Queensland, Central Queensland University and The University of Southern Queensland.
Project Impact

A productive, competitive and sustainable avocado industry in Queensland
Potential for 3-fold higher yields with rapid multiplication of new cultivars coming from breeding programs and facilitate high-density orchards.
Export options
Early indications suggest demand from global nurseries for plants themselves, plus potential to reach >10% export goal of 'Premium-Australian' fruit through follow-on productivity gains.

Reduced environmental footprint

Significantly less inputs to propagation (water/ chemical/land/soil/plants) at reduced risk to industry, which means no dependence on seed or seasonality.
If you enjoy avocado on your toast in the morning, you will soon be thanking University of Queensland researchers for keeping up the supply of your favourite breakfast fare.
Avocado Research Team
If you would like to find more about this research, and/or how it can benefit your business, please contact us by sending us an email. 
---
Centre Director, Centre for Horticultural Science
E. n.mitter@uq.edu.au 
UQ Amplify Researcher
a.hayward@uq.edu.au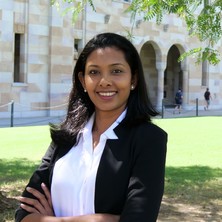 Postdoctoral Research Fellow
j.hitibandalarage@uq.edu.au
Research Assistant
m.gleeson1@uq.edu.au 
Research Assistant 
c.obrien4@uq.edu.au 
Avocado research in the news
Avocado tissue culture propagation
Avocado's contribution to the global bioeconomy records a world production exceeding 5.9 million tonnes/year.
Meeting the plant supply for increasing demand has become challenging due to difficulty in rootstock propagation. Rooting an avocado cutting is cumbersome, thus has forced the industry to depend on genetically diverse and seasonally available seedling rootstocks for tree production. A tissue culture based clonal propagation system could provide a viable industry relevant alternative.
Connect with us
--- Subscribe to e-newsletter
Subscribe to QAAFI Science Seminars