Dr Alice Hayward has won a prestigious mid-career Advance Queensland Research Fellowship, to develop the world-first MICROpropagator – a non-GM, non-toxic, root-inducing formula to speed up the root production of woody crops such as avocados.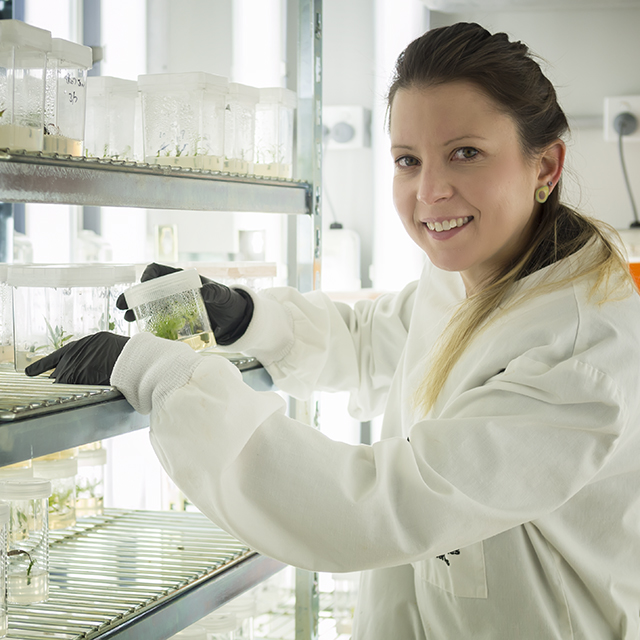 Dr Hayward's work has been developed in the Mitter Lab at QAAFI, a partnership between the Queensland Government and The University of Queensland, and involves developing 'biomolecules' to induce root production for propagation of avocado cuttings.
"It can currently take 18 months to produce a clonal avocado plant from a cutting, and a major reason for this is the notoriously low success rate of root production on cuttings, which severely restricts industry growth," Dr Hayward said.
"If successful, this innovation could boost Queensland's agriculture industry by enabling more efficient production of elite varieties."
Avocado is a high-value subtropical crop in Queensland, with huge potential for rapid industry expansion. However, root induction on cuttings of avocado and other woody species is difficult. Rooting cuttings from elite trees is essential for clonal propagation of subtropical woody crops. Clonal propagation can support higher yields and allow industry uptake of the best Queensland-bred varieties.
Queensland is in a unique position to both pioneer and reap rewards from innovation in subtropical agriculture. This project will develop a MICROpropagator, a high-tech, non-toxic, root-inducing formula to improve clonal propagation of woody crops. The MICROpropagator will be made of newly discovered molecules in plants that control root production. It will be tested in an optimised tissue-culture propagation pipeline for avocado, for application to industry-partner businesses.
Novel, UQ-invented nanoparticles will be trialed to improve shelf-life and delivery of MICROpropagator molecules to industry.
MICROpropagator applies innovative biotechnology and nanotechnology to develop a world-first formulation for root induction. This could enable rapid, high-throughput production of our elite varieties, helping to support Queensland's goal to double agricultural production by 2040. Moreover, the biomolecule delivery platform could be designed to target other limitations in crops; transforming agricultural production globally.
This work is supported by the Department of Agriculture and Fisheries (DAF) and The University of Queensland. Dr Hayward's industry partners are DAF, Delroy Orchards, Jasper Farms and Anderson Horticulture Pty Ltd. Dr Hayward will spend a portion of her fellowship working with DAF scientist Dr Lindy Coates.
 The Advance Queensland Research Fellowships assist in attracting and keeping the best and brightest research minds in Queensland and build Queensland's capacity to conduct innovative research and development.
Media: Margaret Puls, QAAFI (+61 7 3346 0553, mobile: 0419 578 356, m.puls@uq.edu.au); Alice Hayward (+61 7 334 66519, mobile: 0406767390, a.hayward@uq.edu.au)