A group of plants used by First Nations Australians as food, animal fodder and medicine could be a nutritious alternative to salt, according to University of Queensland research.
PhD candidate Sukirtha Srivarathan from the Queensland Alliance for Agriculture and Food Innovation (QAAFI) has found that edible halophytes have potential as a bushfoods business opportunity.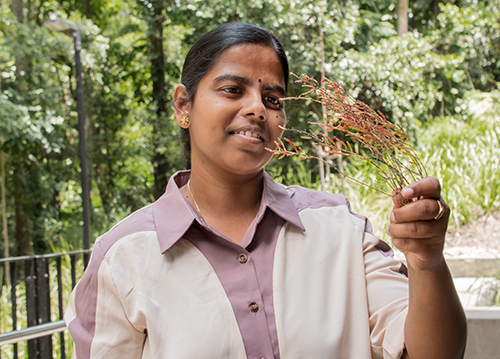 "Australian edible halophytes like samphire, seablite, saltbush and seapurslane have nutritional benefits and bioactive properties," Ms Srivarathan said.
"They've been used for more than 65,000 years as food – especially during drought – because they grow all year-round.
"They're a good source of protein and most of them are a good source of fibre, minerals and trace elements, especially calcium, iron, potassium and zinc, while some also have considerable amounts of folate (vitamin B9) and vitamin C.
"Now we're looking at how we can use these plants in food production."
QAAFI Senior Research Fellow Dr Michael Netzel said the salt-tolerant halophytes are a sustainable food source.
"Halophytes have a lot of bioactive compounds, so it's a more sustainable and healthy choice to eat as a salad or side dish," Dr Netzel said.
"It's these little things; if you can replace something with something healthier rather than changing the whole diet, it can have an impact.
"For example, instead of table salt you can use halophytes as a freeze-dried powder condiment."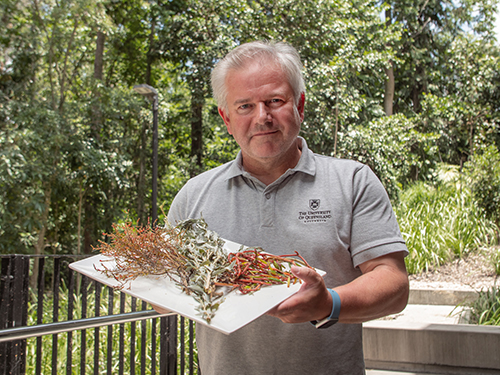 The research was conducted through the ARC Industrial Transformation Training Centre for Uniquely Australian Foods at the request of a Western Australian First Nation community led by Bruno Dann and Marion Manson.
Uncle Bruno said halophytes have long been a staple food for Nyul Nyul people in the Kimberley region, healthy mai (bushfood) collected seasonally by his mimies (grandmothers) and gullords (grandfathers).
"We used to move from place to place every two or three months to collect different foods," he said.
"Halophytes were a great mai (bushfood) when we were by the sea, then we would move inland and back again – living seasonally in the cycles of life and the seasons, going with the land."
Ms Srivarathan said she consulted extensively with the community during her research because there was not much western literature on the subject.
"They know these plants, it's not new to them, so when it comes to potential applications, I got to know how they used them," Ms Srivarathan said.
"It's been a two-way communication which has been mutually beneficial."
"The combination of this native, ancient crop and our state-of-the-art technology is a really good combination," Dr Netzel said.
When her PhD is completed, Ms Srivarathan will continue to work with the community to get a product into market and plans to co-design a dehydrated halophyte substance.
"There has been high demand in using Indigenous edible halophytes for sustainable food production in the past few years, so this scientific profile will be a great help."
The research was published in the Journal of Food Composition and Analysis (https://doi.org/10.1016/j.jfca.2022.104876).
Media contacts: Ms Sukirtha Srivarathan, s.srivarathan@uq.edu.au, +61 (0)406 153 203; Dr Michael Netzel, m.netzel@uq.edu.au, +61 (0)400 887 072; QAAFI Communications, Natalie MacGregor, n.macgregor@uq.edu.au, +61 (0)409 135 651.
Images are available via Dropbox.
The Queensland Alliance for Agriculture and Food Innovation is a research institute at The University of Queensland supported by the Queensland Government via the Queensland Department of Agriculture and Fisheries.