Portable sequencing technology used to track the spread of COVID-19 is now showing promise as a cost-effective way of determining breeding values directly on cattle properties.
Scientists at The University of Queensland are trialling what's called crush-side genotyping to predict important production traits.
Queensland Alliance for Agriculture and Food Innovation (QAAFI) PhD candidate Harry Lamb said the approach would mean producers no longer have to send tail hair samples to a laboratory for genotyping.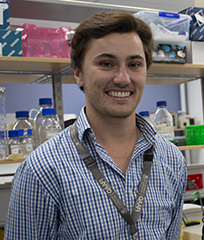 "There's enormous potential for this to be used on any number of production traits QAAFI researchers are working on, including parasite resistance, growth rates, methane production from the gut and traits related to animal welfare," Mr Lamb said.
"There are even opportunities for the on-farm diagnosis of diseases in cattle, such as Bovine respiratory disease."
A hand-held device called a MinION uses DNA extracted from tail hairs or tissue samples to deliver genetic data.
The device is smaller than a toaster and passes dozens of individual DNA molecules from a sample through a biological pore, disrupting the flow of ins in the process.
Mr Lamb said that allowed the DNA sequence to be 'read'.
"We aren't reading the entire genome but reading snippets of DNA and piecing the rest of the genome together using software," he said.
"This helps us accelerate the process and test many animals at once.
"We've already demonstrated we can use this device to derive breeding values with the same accuracy as existing genomic prediction technology, so now we are tackling the logistics of doing this on-farm."
The work is part of the Northern Genomics project led by UQ Centre for Animal Science Director, Professor Ben Hayes, in partnership with Meat & Livestock Australia (MLA), which has established a reference population for genomic prediction in the northern cattle industry. 
The project incorporated data from the herds of 54 northern beef producers and involved comparisons of genotypes against the animals' performance characteristics.
Mr Lamb is now conducting proof-of-concept studies for crush-side genotyping on property.
"It's looking very promising, but we're still trying to optimise the system to bring the cost down," he said.
Recent trials indicated 100 animals could be genotyped in 24 hours at a little over $55 dollars per sample.
MLA Program Manager, Genetics, Hamish Chandler, said the technology had significant potential for the extensive production systems of the northern cattle industry.
"In extensive systems in the North, cattle are often only handled once a year and this really limits our ability to capture information, analyse data and then make an informed selection decision without having to re-handle cattle at a later date," Mr Chandler said.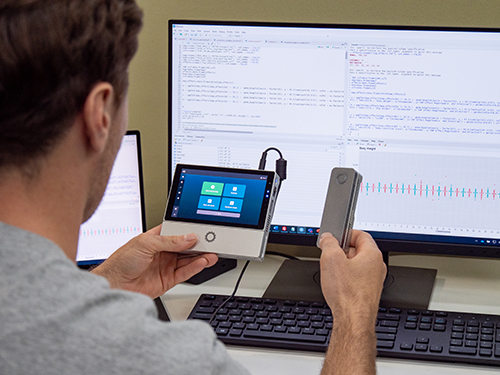 "The crush-side genotyping technology changes this.
"It allows us to make informed decisions about which animals carry the genes we want to keep in our breeding program and which animals should be culled while they are still in the yards."
Mr Lamb said field work would occur this year, with a target of completing the technology in time to demonstrate it at Beef 2024 in Rockhampton.
"From all the producers I have spoken to the response has been very positive," Mr Lamb said.
He said in future, this technology may also have applications in rapid diagnostics on-farm.
"We hope the technology will deliver additional benefits," Mr Lamb said.
"Another recent study demonstrated we can detect bacteria and viruses associated with bovine respiratory disease while generating breeding values from the same test.
"There are also other researchers interested in exploring how they could use the MinION technology to monitor exotic disease outbreaks in northern Australia."
This research is funded by Meat & Livestock Australia (MLA), MLA Donor Company, the Queensland Department of Agriculture and Fisheries and The University of Queensland.
Media: UQ PhD candidate Mr Harrison Lamb, harrison.lamb@uq.edu.au, +61 (0)458 007 808; UQ QAAFI media, Natalie MacGregor, n.macgregor@uq.edu.au, +61 (0)409 135651.
Images of Harry Lamb linked to this project are available via Dropbox.
The Queensland Alliance for Agriculture and Food Innovation is a research institute at The University of Queensland supported by the Queensland Government via the Queensland Department of Agriculture and Fisheries.