Accelerating genetic gain in grain crops will be the subject of a 15-million dollar International Research Training Group (IRTG) funded by the German Research Foundation (DFG) in association with The University of Queensland.
The IRTG will be a collaboration between UQ's Queensland Alliance for Agriculture and Food Innovation (QAAFI) and School of Agriculture and Food Science (SAFS) and Justus Liebig University (JLU) in the German town of Giessen, in the State of Hessen.
Group co-leader, QAAFI's Professor Ian Godwin, said the green light for the project was wonderful news after years preparing the bid.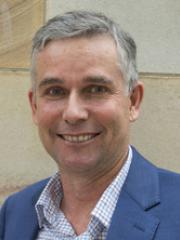 "It's a coup for UQ, very prestigious," Professor Godwin said.
"We will be working with sorghum, faba bean, wheat, barley, mung bean and chickpea, so cereals and pulse crops, covering crop genetic selection and predictive breeding, gene editing and improving stress tolerance.
"The DFG has funded 22 Research Training Groups, but only two of them involve international training partners, so ours was one of the successful ones in a highly competitive field."
The group will have over 20 Chief Investigators, 11 from UQ – including three Early Career Researchers – and ten from JLU, Julius Kuhn Institute, Quedlinberg and Geisenheim University
"It's a great chance for our trio of Dr Karen Massel, Dr Millicent Smith and Dr Owen Powell to slot straight into projects with international collaboration and further their careers," Professor Godwin said.
"We also have three CIs in Warwick, one in Gatton and two from SAFS."
The IRTG will provide invaluable opportunities for dozens of PhD candidates over the life of the project.
"The agreement will allow training for about 24 UQ PhD students from 2023, and a similar number from JLU with recruitment to begin next year," Professor Godwin said
"The expectation is that if you're an aligned student, you will do some of your research in Germany and some here in Queensland.
"The team in Germany have absolutely fantastic plant phenomics, high throughput phenotyping equipment that our students can use to speed up their research.
"For summer crops like sorghum, there is the potential benefit that a student can do a field trial in our winter in Germany, and then another trial in Queensland, giving them almost a continuous growing season to generate data.
"And from the German point of view, QAAFI is one of, if not the best group in the world when it comes to sorghum genetics, breeding, biotechnology and physiology so we have the tools to help their sorghum program.
"Another advantage for the students is having that international experience, which is just priceless.
"The final component is annual workshops alternating between Australia and Germany, allowing students to present their research and benefit from industry engagement, honing all the skills they need to be scientists."
The UQ research will be ready to begin in July 2023.
Media: Professor Ian Godwin, i.godwin@uq.edu.au, +61 (0)409 582 481; QAAFI Communications, Natalie MacGregor, n.macgregor@uq.edu.au, +61 (0)409 135 651.
The Queensland Alliance for Agriculture and Food Innovation is a research institute at The University of Queensland supported by the Queensland Government via the Queensland Department of Agriculture and Fisheries.