Extensive mathematical modelling and analysis of Australia's wheat and sorghum crops has for the first time quantified the potential of modifying photosynthesis to boost yield. 
The University of Queensland's ARC DECRA Fellow Dr Alex Wu said new strategies to improve grain yield are urgently needed so that production of staple crops can keep pace with growing demand.
"Globally, many scientists are interested in enhancing the photosynthetic capacity of food crops as the common perception is that this can boost yield significantly," Dr Wu said.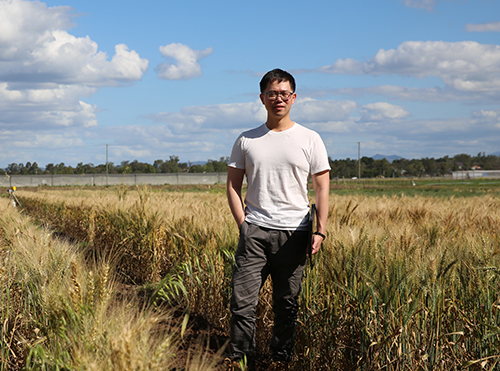 "There are some results from molecular biology experiments claiming a 40 per cent boost in yield from tweaks to photosynthesis measured at leaf scale, but our modelling results quantifying effects at crop scale suggest that even in the best seasons, only a modest yield increase of between zero and 8 per cent would be realised."
Professor Graeme Hammer said the team from the ARC Centre of Excellence for Translational Photosynthesis developed a novel cross-scale modelling approach to predict how leaf carbon dioxide uptake from photosynthesis translates to crop biomass and yield throughout the season.
"Our study examined a broad range of potential photosynthesis bioengineering strategies and predicted likely consequences on crop growth and yield in different environments," he said.
 "Our modelling and simulation approach found reduced and quite mixed yield improvement outcomes, challenging common perceptions about efficacy of photosynthesis bioengineering."
"I think this calls for further research to allow a deeper understanding, because the cross-scale mathematical modelling is telling us different things to the molecular biology experiments," Dr Wu said.
"From our results, I would say photosynthesis is one important piece of the whole crop yield jigsaw puzzle, but it is not the only thing that we need to enhance to boost crop yield significantly.
"We really need to look at this further before jumping to conclusions that changing photosynthesis is the silver bullet to solve world hunger."
Dr Wu is leading new research building on the mathematical models and learnings from this photosynthesis research to explore pathways to maximise yield gains. 
The research was published in Plant Cell & Environment (DOI.org/10.1111/pce.14453).
Photos are available via Dropbox.
Media: Dr Alex Wu, c.wu1@uq.edu.au, +61 (0)7 3346 2780; Professor Graeme Hammer, g.hammer@uq.edu.au, +61 (0)412 189 757; QAAFI Comms, Natalie MacGregor, n.macgregor@uq.edu.au, +61 (0)049 135 651.
The Queensland Alliance for Agriculture and Food Innovation is a research institute at The University of Queensland supported by the Queensland Government via the Queensland Department of Agriculture and Fisheries.