Professor Neena Mitter - Theme Leader Agricultural Nanotechnology, The University of Queensland's Queensland Alliance for Agriculture and Food Innovation won the 2017 Women in Technology (WiT) Life Sciences Outstanding Award.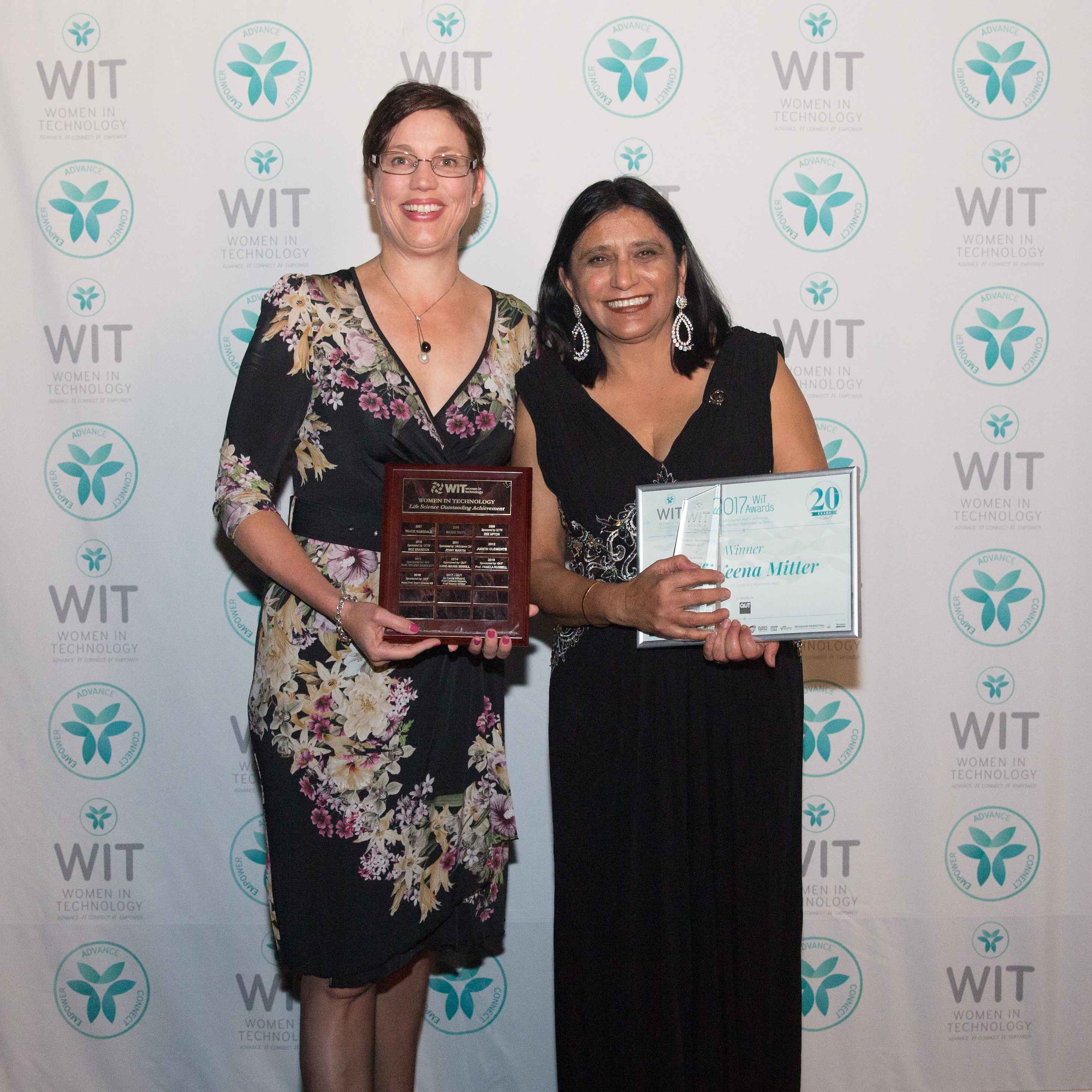 Queensland's talented tech women and successful science professionals joined 385 friends, family and VIPs to celebrate the 2017 WiT Award finalists and winners at the gala awards dinner on Friday 1 September at the Royal International Convention Centre in Brisbane.
Mrs Kristy Simpkin Co-President of WiT said the prestigious WiT annual awards now in their 20th year are about celebrating women who are leaders and experts in their fields, succeeding in traditionally male dominated technology and life science industries.
Sponsors and supporters include the Queensland Government, Queensland University of Technology, The University of Queensland, QUT ihbi, Griffith University, PwC, Amazon Web Services, River City Labs, Brisbane Marketing, Australian Computer Society & Flight Centre.
For more information go to www.wit.org.au
---
Prof Neena Mitter at Queensland Alliance for Agriculture and Food Innovation, the University of Queensland (UQ) is one of Queensland's leading biotechnologists, having been involved in molecular biology and biotechnology in Australia and India for over 20 years. She has won prestigious awards like Women in Technology Queensland Biotechnologist Award, Queensland International Fellowship and Young Scientist Award by the Prime Minister of India. She is internationally recognised for her leadership in innovative, cross-functional research and exceptional industry engagement to address global challenges of agriculture and food security. She leads a passionate, motivated and impactful research group of 22 staff and students to deliver global innovations at UQ, namely ' Non-GM and Non-toxic BioClay spray for crop protection', 'Single dose- shelf stable Nanovaccines for animal health and "Clonal propagation of avocado using plant stem cells". These are ground breaking platform technologies impacting agricultural production, environmental sustainability and socio-economic dynamics of farming community. Her high quality research has merited 40 publications in the last 5 years even within the landscape of commercial confidentiality. She is actively championing Ag-Nano innovations establishing UQ and Queensland as front runners in providing global leadership for a better tomorrow.
---
2017 WiT Awards: winners
Employer of Choice Corporate Award - Data#3
Employer of Choice Small Business Award - Mater Research
ICT Young Achiever Award - Chelsea Edmonds – Asia Pacific Regional Executive Officer, Robogals
ICT Rising Star Award - Jiwon Kim – Lecturer, The University of Queensland, Jess Bond (highly commended) – ServiceNow Business Analyst, Data#3
ICT Professional Award - Kate Jurd - Principal Medical Education Officer, Toowoomba Hospital
ICT Outstanding Award - Bernadette Hyland – Founder & CEO, 3 Round Stones Inc.
Life Sciences Young Achiever Award - Dr Arabella Young – PhD Student, QIMR Berghofer Medical Research Institute
Life Sciences Rising Star Award - Kirsty Short - NHMRC CJ Martin Early Career Fellow, The University of Queensland
Life Sciences Research Leader Award - Katherine Andrews - Head, Tropical Parasitology Lab, Griffith University
Life Sciences Outstanding Award - Carrie Hillyard – Chairman, Fitgenes, Professor Colleen Nelson - Professor and Chair Prostate Cancer, QUT; Director Australian Prostate Cancer Research Centre, Institute of Health & Biomedical Innovation QUT, Professor Neena Mitter - Professor, Theme Leader Agricultural Nanotechnology, The University of Queensland
Sue Wickenden Entrepreneurial Established Award - Carrie Hillyard – Chairman, Fitgenes, Bernadette Hyland – Founder & CEO, 3 Round Stones Inc.,
Sue Wickenden Entrepreneurial Startup Award - Faith Rees – CEO & Co-Founder, SixPivot