Queensland's macadamia industry is booming, with this year's harvest expected to bring record returns for growers and the release of four new varieties that are predicted to deliver up to 30 per cent higher yields.
Minister for Agriculture and Fisheries Bill Byrne said Queensland supplies half of Australia's macadamia crop, with orchards situated from Mackay to the New South Wales border.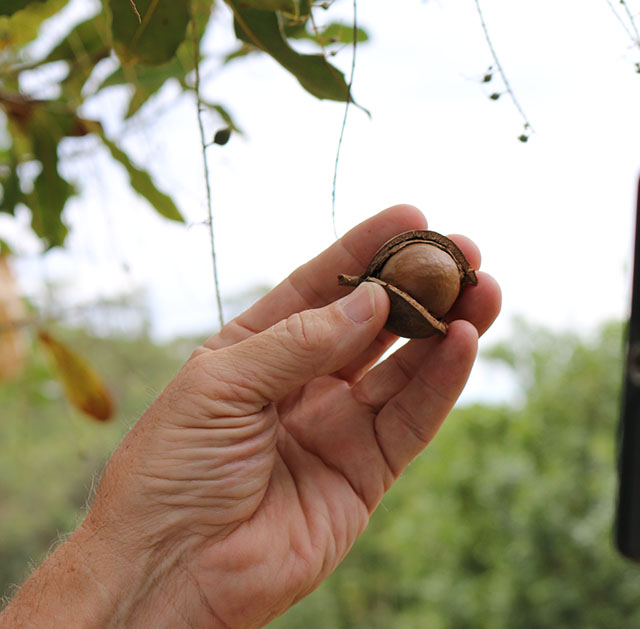 Queensland's native nut has captured three per cent of the global nut market and Minister Byrne said there was excellent potential to grow export markets. Seventy per cent of this year's Australian crop is destined for consumers in the USA, Japan, China and Europe.
The Department of Agriculture and Fisheries' AgTrends forecast Queensland's production to be worth $140 million in 2016/17, 17 per cent higher than DAF's final estimate for 2015/16 and 97 per cent greater than the average for the past five years.
Minister Byrne said the Palaszczuk Government was supporting the growth of the industry through research and development of new varieties, quality evaluation of the new nuts and agronomic techniques to boost yield and reduce input costs to be more competitive on the world market.
"The four new tree varieties that have just been released are the culmination of nine years of research by experts from my department.
"These new varieties have shown potential to increase yields by up to 30 per cent and perform extremely well in the Bundaberg area, which is great news for this regional economy especially."
Bundaberg and Gympie were established as the processing hub for the Australian industry, with significant investment underway along the supply chain leading to more job creation in the region, Minister Byrne said.
He said DAF agronomists were also working with industry to increase the performance of existing trees through improved soil health practices to keep trees productive for longer. They are also working with researchers from the Queensland Alliance for Agriculture and Food Innovation (QAAFI) in some macadamia projects, with QAAFI to lead future breeding work for this crop.
"We will continue to make a significant investment in Queensland's macadamia industry, including working with industry to benchmark the practices of 269 farms across Australia, with a view to identifying industry best practice.
"Macadamia is one of the crops scientists are investigating as part of the long-term 'Small Tree High Productivity Initiative' that aims to greatly boost productivity by developing more intensive growing systems and improving the understanding of the science behind macadamia growing."
The Macadamia variety research work was co-funded by Horticulture Innovation Australia using industry levies and funds from the Australian Government.
For more information about the macadamia variety research, contact the Department of Agriculture and Fisheries on 13 25 23.