Fruit, vegetables and nuts with particular health-giving benefits will be the focus of a $10 million research project at The University of Queensland.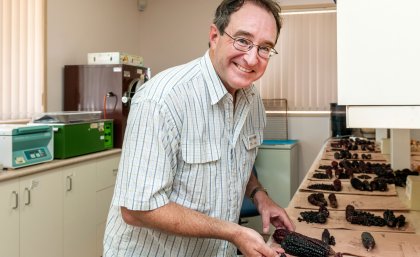 Horticulture Innovation Australia will co-fund scientists at the Queensland Alliance for Agriculture and Food Innovation – a strategic joint-initiative between UQ and the Queensland Government – to work with their AgriScience colleagues at the Department of Agriculture and Fisheries to investigate potential 'superfoods'.
QAAFI's Dr Tim O'Hare who developed SuperGold sweet corn, a variety that protects against macular eye degeneration, will lead the new Naturally Nutritious research project.
Like the Queen Garnet 'superplum' with its blood-pressure lowering properties, SuperGold sweet corn was developed within the Department of Agriculture and Fisheries and this new research builds upon the Department's long-term co-investment partnership with Horticulture Innovation Australia and research collaboration with QAAFI.
Agriculture Minister Mr Bill Byrne said the Department's 'superplum' and SuperGold corn had attracted worldwide interest.
"Our Queensland scientists will identify target foods across a range of fruits, nuts and vegetables where the food's phytonutrient content can be boosted for additional health benefits," Mr Byrne said.
"(They will) also test in human clinical trials the health benefits of the Queen Garnet plum and new DAF strawberry lines that are rich in folate."
Dr O'Hare said a key aspect of the Naturally Nutritious program was identifying potential for new naturally healthy food products that might deliver a measurable health outcome.
"Previous products that had elevated health properties were difficult for consumers to differentiate in the supermarket, and their health benefits were long-term and difficult to measure," he said.
"The consumer had to have faith in something they could not see, and trust in the product's long-term benefits."
By contrast, the Naturally Nutritious project aims to identify opportunities to develop products where consumers will be able to see what they are paying for, and with health benefits that are measureable in the short term.
"We may, for example, see pregnant women eating heart-shaped red strawberries that are high in folate, to help improve the growth of their unborn babies," Dr O'Hare said.
Other products could include macadamias low in saturated fat for improved cardiovascular health, high-zeaxanthin capsicum to improve eyesight, and plums to improve blood pressure and cholesterol levels.
Horticulture Innovation Australia chief executive John Lloyd said the nation's fruit, vegetable and nut growers were constantly looking to adopt new varieties to meet consumer demand.
"The Naturally Nutritious project presents a significant advance for the nation's horticulture growers, who have a strong appetite for innovation and producing the healthiest, highest-quality produce available for consumers," Mr Lloyd said.
The Queensland Alliance for Agriculture and Food Innovation is a research collaboration between UQ and the Queensland Government through its Department of Agriculture and Fisheries.
Media: Dr Tim O'Hare, t.ohare@uq.edu.au, +61 7 3708 8718; Margaret Puls, QAAFI Communications, m.puls@uq.edu.au, +61 7 3346 0553, +61 (0) 409 578 356.