A nutritionally-enhanced sweet corn developed at The University of Queensland to help prevent blindness in the elderly has won a national innovation award.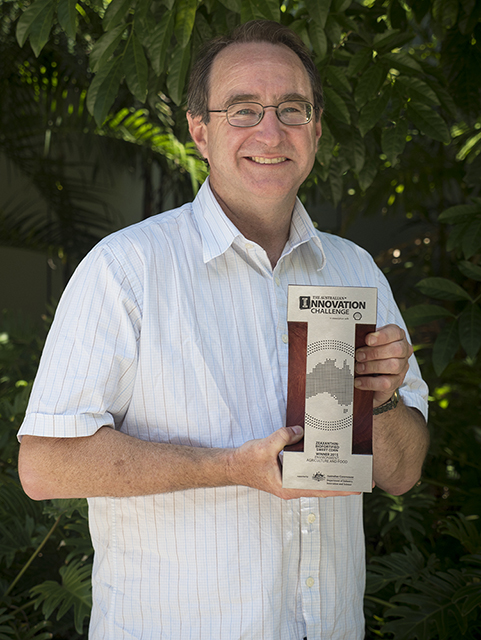 UQ Queensland Alliance for Agriculture and Food Innovation (QAAFI) senior researcher Dr Tim O'Hare (pictured) and his team have developed sweet corn varieties that contain 10 times the amount of the antioxidant zeaxanthin than occurs naturally in sweet corn.
Dr O'Hare won the The Australian and Shell Innovation Challenge Environment, Agriculture and Food category.
He said the Super Gold sweet corn varieties slowed the onset of advanced macular degeneration and should be available in supermarkets in the next few years.
"Zeaxanthin, which is one of the yellow pigments in corn, is also a macular pigment contained in the eye and is believed to reduce the risk of light-induced damage that could lead to macular degeneration," he said.
"When we first started we had no idea how the corn would change by increasing the levels of zeaxanthin.
"We ended up increasing it by 10 times – or 1000 per cent, which no-one had ever tried before."
The SuperGold sweet corn varieties were developed through a collaborative breeding program between the Queensland Department of Agriculture and Fisheries (DAF) and QAAFI.
The Queensland Government began work on the high zeaxanthin varieties in 2008 and has funded continuation of the work through QAAFI. Royalty income from SuperGold will be invested by DAF in developing more novel, high-value fruit and vegetable lines.
The annual Australian Innovation Challenge showcases innovation and collaboration between industry, government and community.
The Young Innovator Award was won by UQ student Monica Davis for developing Rumbl – an app to connect retail outlets with surplus food to customers.
The app is designed to deliver food to battlers while cutting the volume of organic waste going to landfill.
Media: Dr Tim O'Hare, t.ohare@uq.edu.au, 0417 782 216; QAAFI Communications, Margaret Puls,  m.puls@uq.edu.au, 0419 578 356.