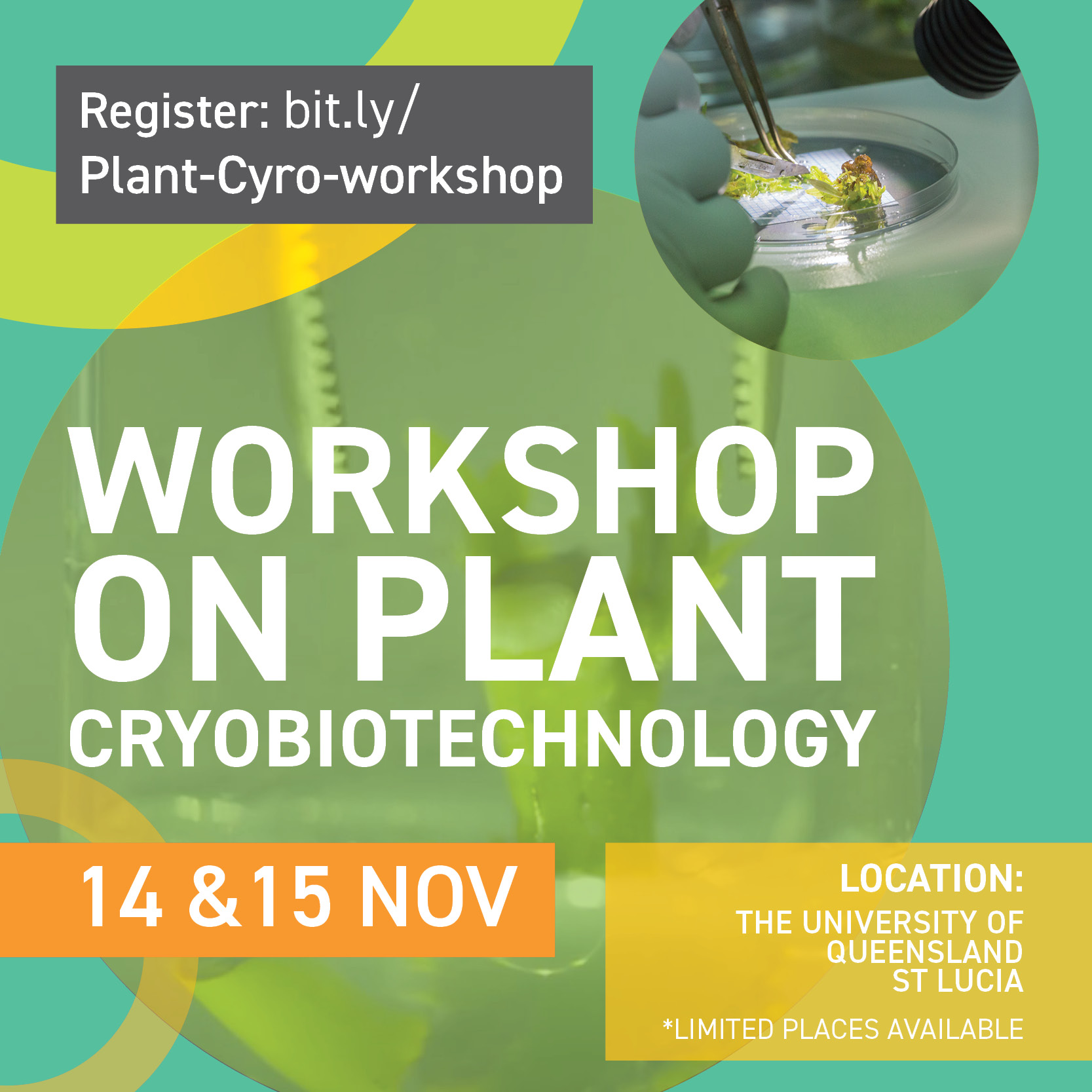 DAY 1 - THURSDAY NOVEMBER 14, 2019

LECTURE SERIES IN CYRO THEORY

Participants will learn cryopreservation theory covering techniques, challenges of different plant species and the underlying biochemicals and physiological; considerations.

PLEASE NOTE: Spaces are limited, secure your place (Morning tea and lunch provided)

9.15-9:30
Registration
 
9:30-9:45
Welcome
Prof. Neena Mitter
9:45-10:30
Introduction to ex-situ conservation of plant genetic resources
Chris O'Brien
11:15-11:30
Tissue culture as a method to preserve plants
Steve Adkins (Julianne Biddle)
11:15-11:30
Break
 
11:30-12:15
Cryobiotechnology as a strategy for the long-term preservation of plant biodiversity
Raquel Folgado
12:15-13:30

Potentials and challenges of the cryobiotechnology applied to plant conservation:
3-4 light talks of 10-15 min (cases of study)
And final discussion

Coconut SE work: Julianne)

-Avocado work (SE and shoot tips): Chris and Amy

-Potato and/or magnolia: Raquel

13:30
Lunch
 
14:30 
Workshop close
 
REGISTRATION
DAY 2 - FRIDAY NOVEMBER 15, 2019

LABORATORY WORKSHOP

Participants will spend a day in a world-class tissue culture facility, learning hands-on techniques and tricks for different stages of the cryopreservation process, using both dicot and monocot plant species. 

PLEASE NOTE: Space are limited, secure your place (Morning tea and lunch provided)

9.00-9:30

Registration and welcome

 
9:30-11:00

Practical demonstration:
Shoot tips dissection

Raquel Folgado/Chris O'Brien
11:00-11:15
Break
 
11:15-13:30

Practical demonstration:
Cryopreservation of shoot-tips using vitrification and encapsulation-based techniques

Raquel Folgado/Chris O'Brien
13:30-14:30
Lunch
 
14:30-16:15

Practical demonstration:
Cryopreservation of somatic embryos

Chris O'Brien/Julianne Biddle (or Raquel)

To Register for this event please contact facilitator: 

Dr Alice Hayward
T: +61 7 334 62295
E: a.hayward@uq.edu.au
---
Presenters:
 Dr Raquel Folgado
 Dr Folgado (PhD) is a world expert in  cryopreservation of species including potato, avocado, aloes, agaves, cacti,   magnolias, cycads and oaks. She is based at the Huntington Botanical Gardens, USA.
---
 Chris O'Brien 
 Chris O'Brien (MPhil) is an PhD candidate and developer of the world's first protocols for cryopreservation of avocado, working for over 12 years on this species at QAAFI, UQ.
---
Location: 
Queensland Alliance for Agriculture and Food Innovation
Queensland Bioscience precinct (Building #80), 306 Carmody Road,
The University of Queensland, St Lucia, QLD, Australia
---
Contact:
Dr Alice Hayward
T: +61 7 334 62295
E: a.hayward@uq.edu.au
---
Brought to you by: 

---

---

Registering for QAAFI Science Seminars 
There is no need to register for individual seminars, simply make sure you are signed up to receive our seminar notifications, and the link to the webinar will be sent to your nominated email address on the morning of the seminar. 
Venue
QBP building 80, UQ St Lucia campus
306 Carmody Road, St Lucia Qld 4072