Staff and students from The Uniquely Australian Foods centre were excited to welcome fifteen Indigenous year 11 and 12 school students from Acacia Ridge's Aboriginal and Islander Independent Community School,  'Murri School', for an engaging and hands-on day at the ARC training centre based at UQ's Elkhorn facility.
Professor Yasmina Sultanbawa said this year we plan to host more tours with high school students at the facility to share information about the Uniquely Australian Foods program, our research and future study opportunities.
Indigenous Engagement Officer Terry Bell welcomed students and gave a brief chat about his own journey into study, and Indigenous PhD Candidate Sherie Bruce had some fun(gi!) with the students, telling them about her research into endemic Australian fungi, sharing samples of commonly available mushrooms and fungi, and hunting around the Elkhorn grounds to see what was there.
Students took part in a PhD candidate Jess Cartwright's research as participants, tasting a reduced sugar, Kakadu plum-infused soft drink, before looking at the sensory kitchens and learning about how the centre works with Native foods and Indigenous research partners.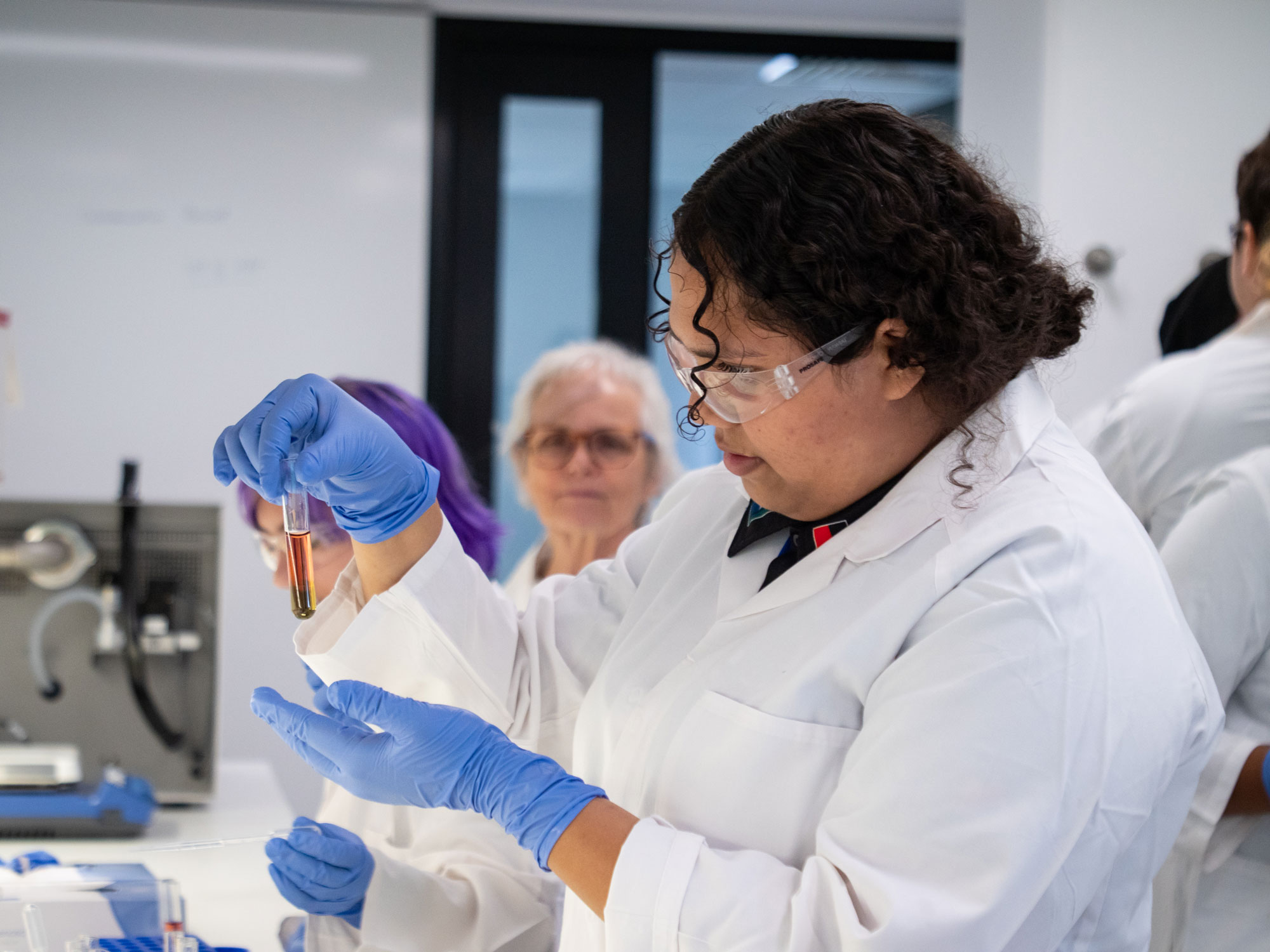 The students also got to be official scientists for a while, donning lab coats and safety glasses, and getting some hand-on experience through some simple experiments, thanks to Centre's very own Dr Anh Phan, Dr Oladipupo Adiamo and Dr Maral Seidi Damyeh. Under the guidance, teachings and supervision of the researchers, students got to test the PH and sugar content of different drinks, look at anthocyanins of cranberry juice, and finally observe results of an experiment where yeast, fungi and bacteria were grown in plates after washed and unwashed hands were placed on the growing media a few days previously. The results on the petri dishes were pretty scary to see – enough to make everyone wash their hands very well before lunch!
After lunch, Kieran Marr from UQ's Aboriginal And Torres Strait Islander Studies Unit spoke to students about the free InspireU camps,  and study and support options available to them, before an informal conversation within the group about study and life paths ended the day.
Murri School's Brook Hawkins and the ARC Centre's Sophie Ader agreed it would be great to stay connected to support and grow any interest the day sparked in students, with some ideas already forming as a result of the day, and activities already being planned by the wonderful teachers at Murri School. It was a wonderful day to be part of, a real privilege, and we hope that it may have positively sparked some minds in one way or another.  
"We just want to planta seed and inspire the next generation of Indigenous students. They really are the future of this industry – this was a great opportunity for them to connect with what we are doing and feel that science is a little more accessible to them, and that we will always welcome them through our doors. Our centre was designed to be a place for community to come to – this includes the kids".
---
View photos from the event. 
Contacts: Professor Yasmina Sultanbawa, Centre Director for Nutrition and Food Sciences, The University of Queensland E: y.sultanbawa@uq.edu.au; or Sophie Ader, Engagement Officer, The University of Queensland E: s.ader@uq.edu.au.