UQ researcher Dr Lee Hickey has received an Australian Research Council DECRA award for his role working with a UQ research team to develop and validate novel crop improvement protocols.
The highly competitive DECRA scheme provides focused support for researchers and aims to support excellent basic and applied research and expand Australia's knowledge base and research capability.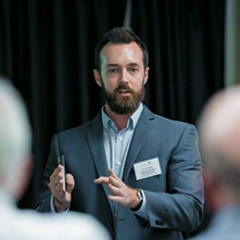 Dr Hickey's DECRA research program involves fusing together four leading-edge technologies – genomic selection, speed breeding, high-throughput phenotyping and crop modelling – to assist in the development of improved crop cultivars targeting yield under drought. 
"More efficient breeding techniques could accelerate genetic gain in wheat – beyond what is expected to occur in ongoing breeding programs, and will empower breeders to develop robust cereal cultivars in the face of climate change," Dr Hickey said.