A new way to detect explosives and an alternative to antibiotics for animals are among 19 research projects at The University of Queensland to secure funding to build the state's future.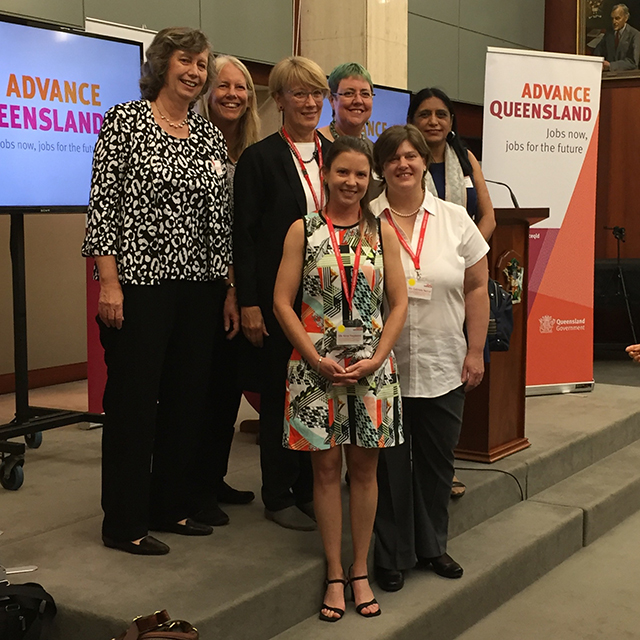 The Queensland Government's Advance Queensland Research Fellowships Scheme will fund the research projects over three years– up to $100,000 per year for seven mid-career fellowships and $60,000 per year for 12 early career fellowship - amounting to up to $4.26 million.
 
UQ Vice-Chancellor and President Professor Peter Høj said the funding would help drive the 19 research projects towards creating transformational products, jobs and business opportunities for the state.
 
"For example, our researchers are developing molecules to propagate avocado cuttings, a process which has to date had a notoriously low success rate, hampering the Queensland industry from achieving its potential," Professor Høj said.
 
"If successful, this innovation could boost Queensland's agriculture industry by enabling rapid production of elite varieties."
 
Professor Høj said each of the 19 research projects had the potential to create meaningful change for Queensland and further afield.
 
"As the state's largest university and one of the world's top 50 universities on two key rankings, UQ has an enormous role to play in Queensland's future, creating new jobs, products and businesses," he said.
 
"One team is using native spinifex grass to create ultra-thin and strong latex for condoms and medical gloves.
 
"Another is developing a new generation of antibiotic-free feed for livestock, and yet another is developing a luminescence-based sensor for the detection of explosives in a technique that could circumvent the need to approach and swab dangerous devices.
 
"These projects hold great potential on an international scale – in agriculture, health and medical and policing fields – with flow-on effects for the state."
 
Previous UQ research has led to global use of the Gardasil cervical cancer vaccine, the superconductor technology in most MRI machines and the Triple P Parenting Program.
 
Six UQ PhD students also received scholarships under the scheme, which is administered by the Department of Science, Information Technology and Innovation (DSITI). A full list is below.
 
Mid-career: Up to $100,000 a year for three years.
Dr Pratheep Kumar Annamalai (AIBN) – Easily deconstructed spinifex nanofibers for enhancement of high-performance construction materials
Dr Alice Hayward (QAAFI) – MICROpropagator – A plant propagation platform based on novel biomolecules
Shihu Hu (EAIT) – Energy positive domestic wastewater treatment
Dr James Kesby (QBI) – Establishing therapeutic links between early dopamine function and schizophrenia
Dr Li Li (AIBN) – Engineering nano hybrid platforms for oral vaccination combined with animal feed
Dr Yah Leng Lim (EAIT) – Compact terahertz laser imaging system for early skin cancer detection
Dr Paul Shaw (SCIENCE) – Development of a luminescence-based sensor for the detection of explosives.
 
Early-career: Up to $60,000 a year for three years.
Dr Nasim Amiralian (AIBN) – Advancement and commercialisation of spinifex nanocellulose- enhanced rubber products
Dr Farhad Fatehi (MABS) – Using telemedicine for improving diabetes management in Queensland
Dr Muxina Konarova (AIBN) – Sustainable production of ethanol fuel from waste-gas
Dr Paul Luckman (EAIT) – Commercial scale production of N-Sorptive superabsorbent biopolymers for sugarcane fertilisers
Dr Gabriele Netzel (QAAFI) – Managing the detrimental effects of indospicine through rumen metabolism
Dr Juan Ortiz (Science) – Maximising GBR resilience by integrating physiology, evolutionary biology, and macroecology
Dr Hong Peng (EAIT) – Unlocking Queensland's bauxite ore reserves through process technology innovation
Dr Pradeep Shukla (EAIT) – Upscaling and developing on-site cyanide plant for gold/base metal mines
Dr Sergio Galindo -Torres (EAIT) – Pushing the boundaries of current numerical geotechnical modelling capabilities
Dr Yifan Wang (EAIT) – Reconfigurable mm-wave antenna systems for satellite communications
Dr Arnold Wiliem (EAIT) – Reconfigurable mm-wave antenna systems for satellite communications
Dr Meihau Yu (AIBN) – Nano-pollen encapsulated lysozyme: a safe alternative to antibiotics for livestock.
 
Advance Queensland PhD Scholarships:
Miss Rebecca Garrad – Pastures as tools for pest suppression
Dr Johanna Lynch – 'Sense of safety': a new way to see mental health?
Mr Nicholas McCarthy – Breathing fire: understanding the meteorology of pyro-convection in bushfires.
Mrs Rebecca Stockwell – Hospital environments and the spread of cough aerosols
Mr Eric Wu – Development of a 'Smart' Heart Assist Device.
Advance Queensland Aboriginal and Torres Strait Islander PhD Scholarship:
Mr Troy Meston – An indigenous journey through the 21st century educational landscapes of new metrics.