TropAg Info text accordion
TropAg draws global crowd
'The heat is on agriculture and food production in the tropics. With the global population expected to reach 9.8 billion by 2050, the greatest pressure will be experienced in the world's tropical zone – home to half the world's population.'
This message set the tone for over 800 delegates from 43 different countries who attended the third TropAg conference held at the Brisbane Convention & Exhibition Centre (BCEC) in November 2019.
The conference was the brainchild of Professor Robert Henry and his team from UQ's Queensland Alliance for Agriculture and Food Innovation who developed the conference in conjunction with the BCEC's international conventions team.
Held biannually, the first conference was held in 2015, again in 2017 and most recently in November 2019.  A significant factor in the success of the TropAg conference series is that The University of Queensland is a world leader in agriculture and food research.
With the theme 'Shaping the science of tomorrow' the conference took a broad-brush approach with 240 symposia sessions covering five themes including Crops, Horticulture, Animal, Nutrition and Food and an AgFutures stream showcasing innovation and investment in Queensland Agriculture.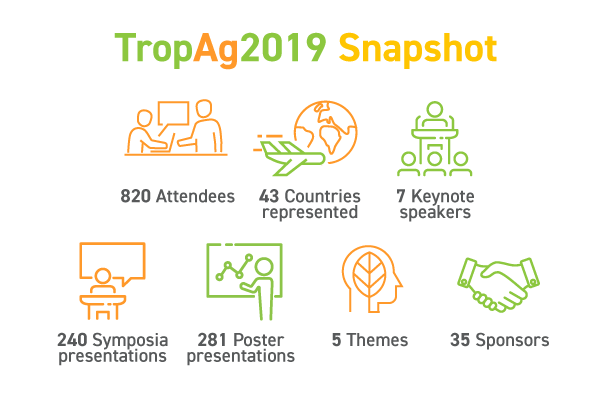 The conference was planned for 2021 but has been postponed due to COVID-19 until 2022 
the new date for TropAg 2022 is 31 October - 2 November 2022.