Abstract:
A substantial body of research suggests that optimised plant root systems can improve water acquisition with minimal metabolic cost, which could improve crop yields under both favourable and adverse conditions. Modern crop improvement programs, however, struggle to incorporate selection for root traits, largely due to the challenges associated with phenotyping root structure, a lack of understanding of the genetic controls of root system architecture, and an inability to assess the value of traits in specific environment types. This seminar provides an overview of our bread and durum wheat research efforts seeking to: 1) develop molecular markers linked to root traits, 2) develop elite varieties with modified root systems, 3) determine the value of root traits to support yield in different production scenarios, and 4) provide a better understanding of the dynamics between root and shoot components that influence yield.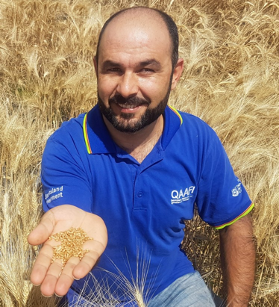 Presented by: 
Dr Samir Alahmad is an early career plant breeder and geneticist. His main interest is dissecting the genetics of complex traits that contribute to enhanced yield under drought and disease stresses. His research is focused on better understanding the genetics of drought adaptive traits such as root system architecture and canopy development. He is currently working on two GRDC funded projects that aim to develop elite bread and durum wheat varieties with optimal root system architecture for yield improvement.
---
Sign up to receive QAAFI Science Seminar notifications
Research contact:  Dr Samir Alahmad, QAAFI, Centre for Crop Science, s.alahmad@uq.edu.au
Science seminar coordinator: Dr Craig Hardner E. c.hardner@uq.edu.au T. +61 7 334 69465 
QAAFI communications: Jackie Kyte E. qaaficomms@uq.edu.au 
About Science Seminars
Queensland Alliance for Agriculture and Food Innovation hosts science seminars across the disciplines of animal, horticulture, crop, food and nutritional sciences.
With a range of speakers from Australia and abroad, the series explores how high-impact science will significantly improve the competitiveness and sustainability of the tropical and sub-tropical food, fibre and agribusiness sectors.
 
View Science Seminar pageSign up to receive QAAFI Science Seminar notifications
Email Science Seminar Committee
---
The Queensland Alliance for Agriculture and Food Innovation is a research institute at The University of Queensland supported by the Queensland Government via the Queensland Department of Agriculture and Fisheries.