Agriculture and food production face challenges from changing consumer and community expectations, climate change and the impact of new technology.  
Robert Henry will use examples of his recent work to explore how we might re-invert plants to cope with the changing requirement of agriculture in the future.  
Examples will include use of sugarcane for a diversified range of products, new types of horticultural crops and development of crop varieties for production in northern Australia.
---
Professor Robert Henry 
Director, QAAFI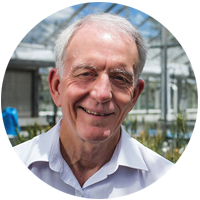 Professor Robert Henry conducts research on the development of new products from plants. He is Professor of Innovation in Agriculture and Foundation Director of the Queensland Alliance for Agriculture and Food Innovation (QAAFI), a Research Institute of the University of Queensland established in collaboration with the Queensland Government. His current research targets plant genome sequencing for the capture of novel genetic resources for diversification of food crops to deliver improved food products.

He is a graduate of the University of Queensland (B Sc (Hons)), Macquarie University (M Sc (Hons)) and La Trobe University (Ph D). He was awarded a higher doctorate (D Sc) by the University of Queensland for his work on variation in plants, is a Fellow of the Royal Australian Chemical Institute and a recipient of the Guthrie Medal for his contributions to cereal chemistry. He is a Fellow of the Australian Academy of Technological Sciences and Engineering. Robert Henry was foundation senior editor of the Plant Biotechnology Journal. He is a highly cited scientist (ISI) in agriculture.
About QAAFI Science Seminars
Queensland Alliance for Agriculture and Food Innovation (QAAFI) has been hosting a high-profile seminar series across the disciplines of agriculture, food and nutrition science since 2014. With a range of speakers from Australia and abroad, the series explores how high-impact science will significantly improve the competitiveness and sustainability of the tropical and sub-tropical food, fibre and agribusiness sectors.
Sign up to receive QAAFI Science Seminar notifications
Attend in person: Click here for a map of the seminar location. ​Building entry is via the ramp on Chancellor's Place, opposite the bus stop. 
This is an open seminar and registration is not required. If you are unable to attend in person, you may watch the seminar live or on our YouTube channel. Note: Not all seminars are recorded.
Watch seminar live (link active from 12pm during seminars only)
Venue
Level 3 Qld Biosciences Precinct (QBP) Building #80, The University of Queensland, St Lucia
Room:
Large Seminar Room (3.142)