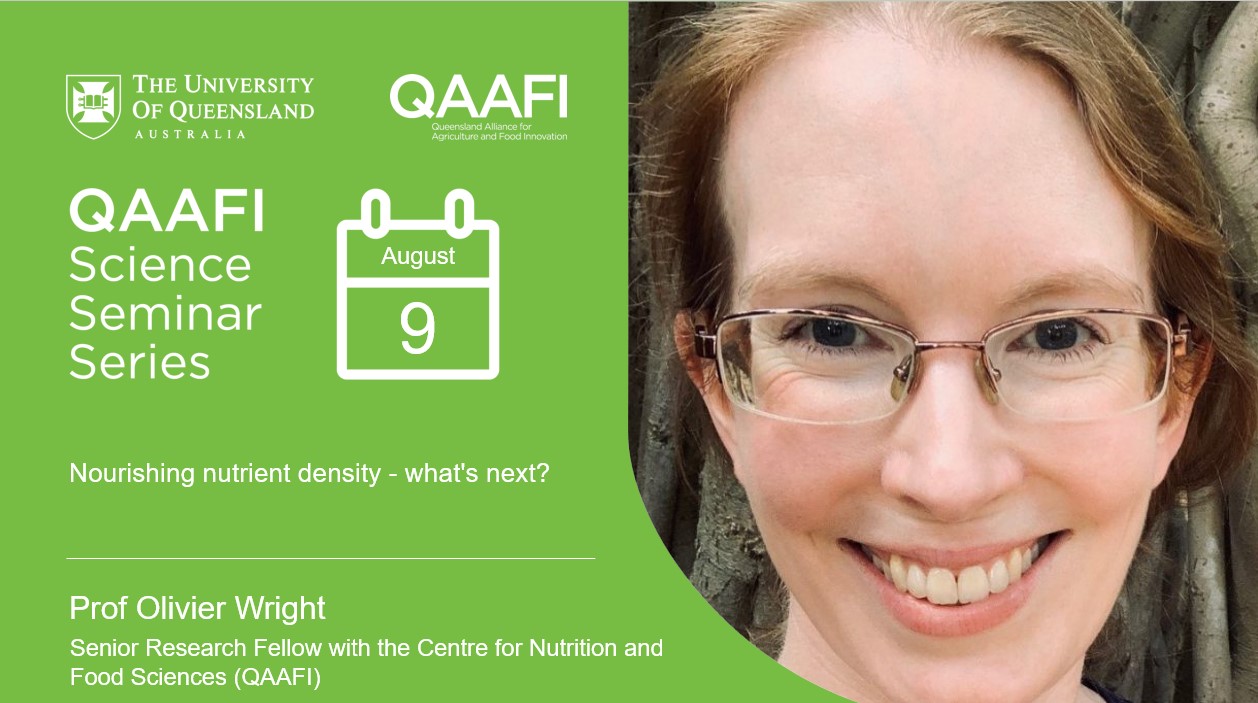 Abstract
It is well known that Australians, and indeed, populations worldwide do not consume foods that provide optimum nutrition to prevent chronic diseases or lessen planetary demise. Our research group has been examining factors associated with adherence to various dietary patterns, both nationally and internationally, in order to improve recommendations around improving variety, nutrient density and planetary health. A snapshot of our studies and recent literature will be presented and discussed, highlighting challenges and opportunities for the future.
Prof Olivia Wright
Olivia is a Senior Lecturer in Nutrition and Dietetics at the School of Human Movement and Nutrition Sciences and a Senior Research Fellow with the Centre for Nutrition and Food Sciences (QAAFI). Olivia has a strong track record in leading multidisciplinary research including clinical trials; adherence to healthy and sustainable dietary patterns; innovative models of service delivery to prevent nutritional decline and improve quality of life for older people; service co-design, delivery, and evaluation across various areas of dietetics practice. Olivia also collaborates with industry partners to trial novel foods and ingredients. She currently mentors 8 PhD students and 5 are completing projects with QAAFI.
 
---
Senior Lecturer, School of Human Movement and Nutrition Sciences E: o.wright@uq.edu.au
About Science Seminars
Queensland Alliance for Agriculture and Food Innovation hosts science seminars across the disciplines of animal, horticulture, crop, food and nutritional sciences.
With a range of speakers from Australia and abroad, the series explores how high-impact science will significantly improve the competitiveness and sustainability of the tropical and sub-tropical food, fibre and agribusiness sectors.
 
View Science Seminar pageSign up to receive QAAFI Science Seminar notifications
Email Science Seminar Committee
---
The Queensland Alliance for Agriculture and Food Innovation is a research institute at The University of Queensland supported by the Queensland Government via the Queensland Department of Agriculture and Fisheries.
Venue
https://uqz.zoom.us/j/82134764057