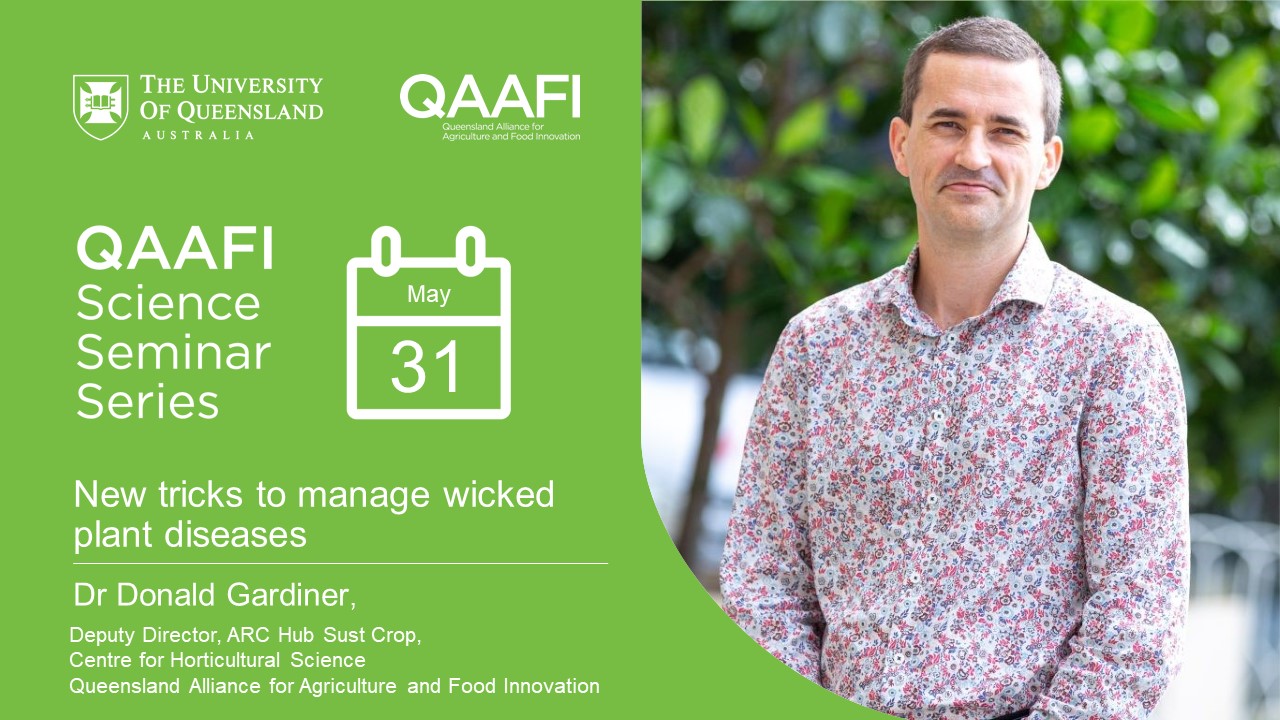 Abstract
Fusarium diseases of cereals are a major constraint to production world wide. Compounding the issue is the contamination of grains with toxin that have negative impacts on humans and animals. The seminar will cover aspects of Fusarium pathogen biology including the regulation of toxin production and some forward looking ways that perhaps one day might be used to manage plant diseases.
Dr Donald Gardiner
Donald is the deputy director of the ARC Hub for Sustainable Crop protection developing dsRNA products for managing crop diseases. Before joining QAAFI he spent 16 years in CSIRO on both applied and fundamental projects in the area of crop protection, mostly working with Fusarium pathogens on cereals. He has a PhD from The University of Melbourne.
---
Dr Donald Gardiner, Deputy Director, ARC Hub Sust Crop at Centre for Horticultural Science E: donald.gardiner@uq.edu.au
About Science Seminars
Queensland Alliance for Agriculture and Food Innovation hosts science seminars across the disciplines of animal, horticulture, crop, food and nutritional sciences.
With a range of speakers from Australia and abroad, the series explores how high-impact science will significantly improve the competitiveness and sustainability of the tropical and sub-tropical food, fibre and agribusiness sectors.
 
View Science Seminar pageSign up to receive QAAFI Science Seminar notifications
Email Science Seminar Committee
---
The Queensland Alliance for Agriculture and Food Innovation is a research institute at The University of Queensland supported by the Queensland Government via the Queensland Department of Agriculture and Fisheries.
Venue
Online via Zoom Webinar:
https://uqz.zoom.us/j/83454597285