Where is the hungry fall armyworm munching its way to next?
Industry and government joined forces yesterday in a workshop in Brisbane to better understand the state of play with the destructive fall armyworm moth and its larvae.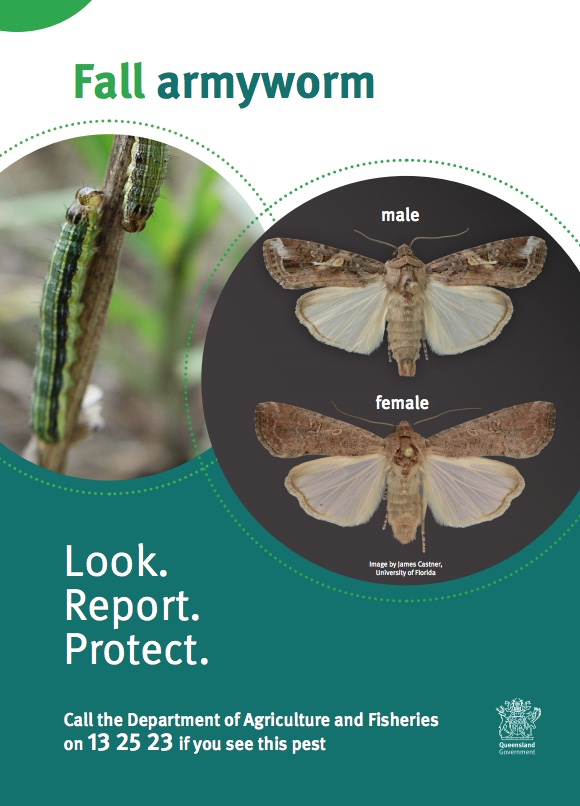 Be alert, not alarmed' was the key message to growers and producers as the group focused on how to limit the impact of this pest.

Fall armyworm, which is new to Australia, has reported to be found on more than 350 plant species. 

Educating and informing our growers and producers how to manage this pest is our top priority moving forward. 

Register now for a fall armyworm webinar on Friday 13 March 2020. 

If you think you may have identified fall armyworm on your crops, report to 13 25 23.
The Department of Agriculture and Fisheries is hosting a webinar aimed at everyone who manages crops that maybe be affected by the Fall Armyworm pest. Mark Schutze (Biosecurity Queensland ) will outline the diagnostic features which will assist in the identification of the pest. Rosalie Banks (Biosecurity Queensland ) will explain the purpose behind the surveillance trapping program and Melina Miles (AgriScience Queensland ) will outline the management strategies associated with the Fall Armyworm.
Register for the webinar to secure your place and take the opportunity to be informed on this new pest.

WEBINAR: Friday, Mar 13, 2020 2:00 PM - 3:00 PM AEDT 

  Register Now