Two QAAFI students topped the best student presentation awards at the recent Sorghum in the 21st Century conference at Montpellier, France, heading an international field.
Centre for Crop Science and Centre of Excellence for Plant Success PhD candidate Daniel Otwani's presentation was voted the best at the international gathering.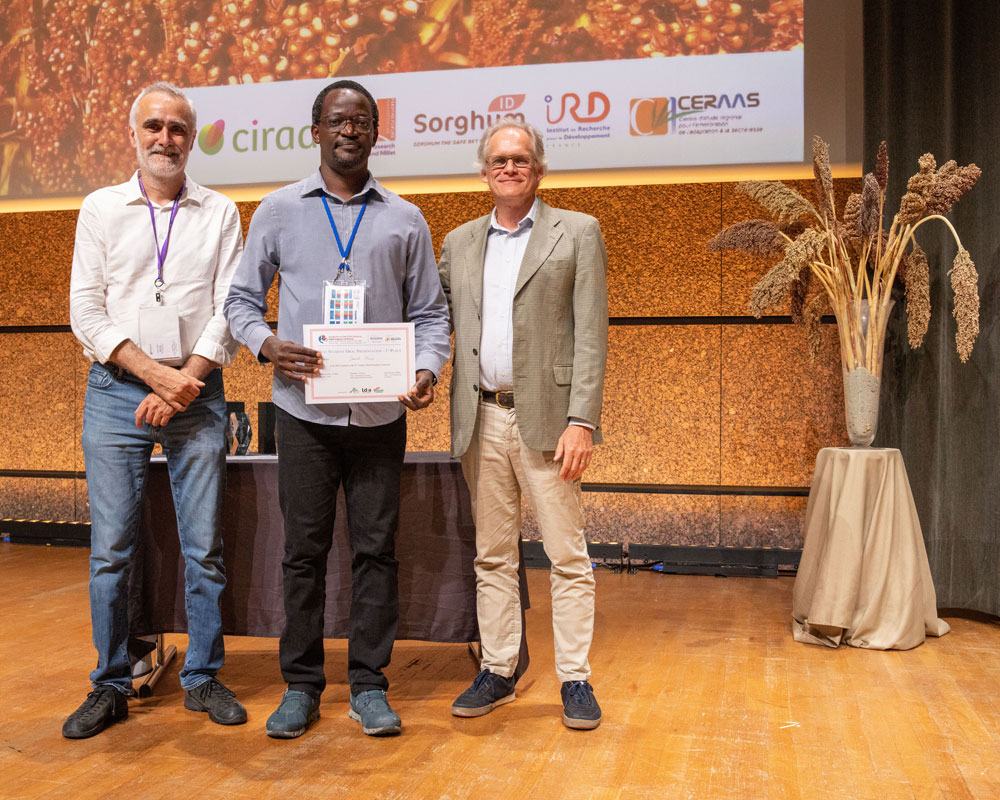 "It was a great achievement for me and solidified my confidence in research," Mr Otwani said.
"It was also a timely opportunity to discuss my work with my peers from around the world."
Fellow Crop Science and Centre of Excellence for Plant Success PhD candidate Genevieve Durrington was voted runner-up in a competitive field. 
"It was an honour to receive this award at the international level, especially given that there were so many great and insightful talks at the conference," she said.
Mr Otwani's PhD focuses on dissecting the genetic structure of grain filling duration for grain yield improvement in sorghum breeding programs.
He uses crop simulation modelling to understand the variation of this trait across environments to gain insight on its usefulness as a breeding strategy.
"In my presentation I discussed results of a simulation study covering three locations in sorghum growing environments in Australia using 60 years of available weather data," he said.
"I found that developing hybrids with an extended filling duration had a yield advantage over baseline hybrids in all scenarios across test environments."
Mr Otwani has submitted a paper on his research, which is currently under review, and will share more results at the Australian sorghum meeting in Toowoomba in August.
Ms Durrington was delighted with the response to her talk, "CropGen: A new tool for optimising sorghum crop design".
"My talk introduced the new tool we have been developing for generating optimised crop designs," she said.
"By connecting the APSIM sorghum crop model with an optimisation algorithm, CropGen is a platform that facilitates iterative exploration of the performance of different trait and management combinations in a range of environments.
"It produces a set of optimal combinations with different trade-offs of the specified production criteria.
"Ultimately the goal for my PhD is to provide useful insights to the industry about possible directions for future breeding or agronomic research."
Ms Durrington is also finalising a research paper in order to publish her work.
Media: Daniel Otwani, d.otwani@uq.edu.au; Genevieve Durrington, g.durrington@uq.edu.au; QAAFI Communications, Natalie MacGregor, n.macgregor@uq.edu.au, +61 409 135 651.
The Queensland Alliance for Agriculture and Food Innovation is a research institute at The University of Queensland supported by the Queensland Government via the Queensland Department of Agriculture and Fisheries.