This article was first published by the Crawford Fund on 14 May 2020. 
Jane Ray, a PhD Candidate at the University of Queensland, travelled to Costa Rica as part of a project to identify and manage bacterial wilt diseases in bananas after being awarded a Crawford Fund Student Award by the Crawford Fund's Northern Territory Committee. She was supported in-country by the University of Costa Rica. 
Banana (Musa spp.) is the most consumed fruit crop globally and an important crop in the developing world providing a source of food and income throughout the year reducing the risk of food insecurity.
Bananas are susceptible to three important bacterial wilt diseases that reduce productivity and quality. These diseases are Moko, blood disease and banana Xanthomonas wilt and they all cause similar symptoms of leaf wilting, vascular discoloration and fruits that remain green on the outside with rotten, discoloured inedible pulp. These diseases are absent from Australia and are of concern to the Australian banana industry.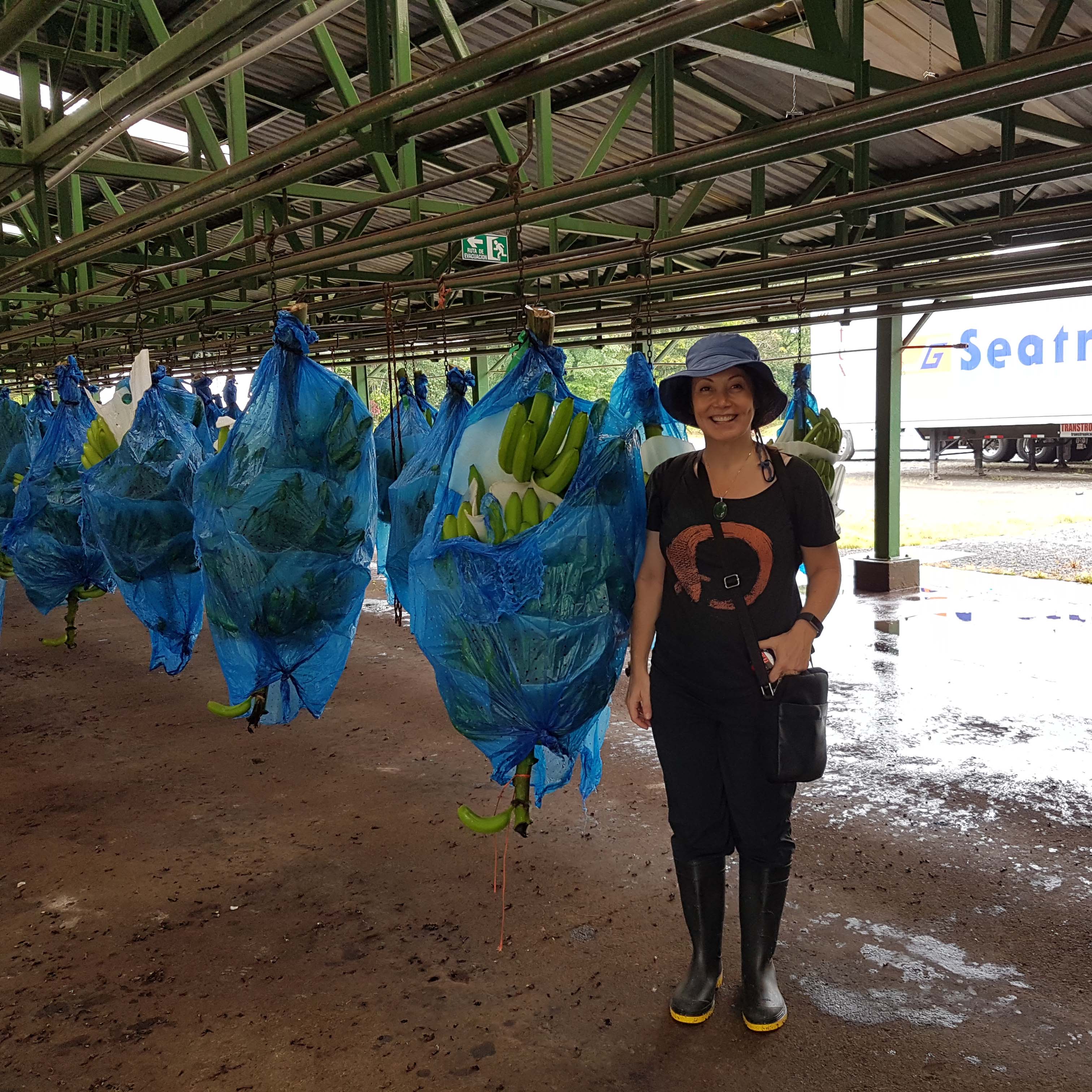 "Our findings during this project are of value to the Australian banana industry which has a farm gate value of $600 million. These lethal bacterial wilts are exotic to Australia and are listed as high priority pests in the banana industry biosecurity plan. An incursion would likely result in a costly eradication program while the establishment of Moko in Queensland alone has been estimated to cost the industry $100 million," said Jane.
Biosecurity is fundamental to the success of future banana production in the Northern Territory, an industry that has already successfully eradicated banana freckle a few years ago.
Moko disease originates from South and Central America and has also been recorded in the Caribbean Islands, the Philippines and Malaysia; whilst banana blood disease originates from Indonesia.
"Blood disease is an emerging threat to banana production in Southeast Asia and beyond and is the topic of my PhD research," said Jane.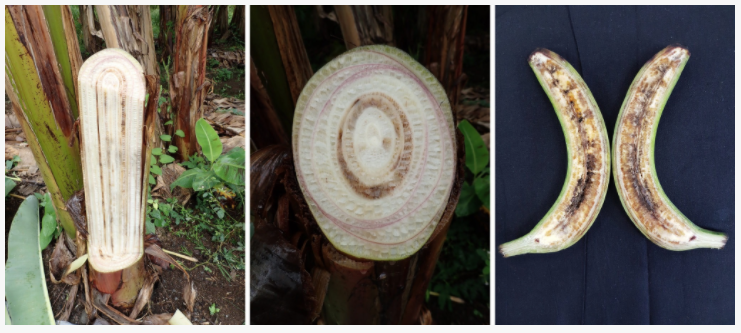 "This Crawford Fund Student Award project provided a unique opportunity for me to visit Dr Luis Gómez Alpizar from the University of Costa Rica to see Moko disease in the field for the first time," she said.
Comparing, photographing and documenting the difference between strains of Moko and blood disease would provide valuable information for diagnosticians and help to speed up accurate diagnosis for the different banana bacterial wilts explained Jane.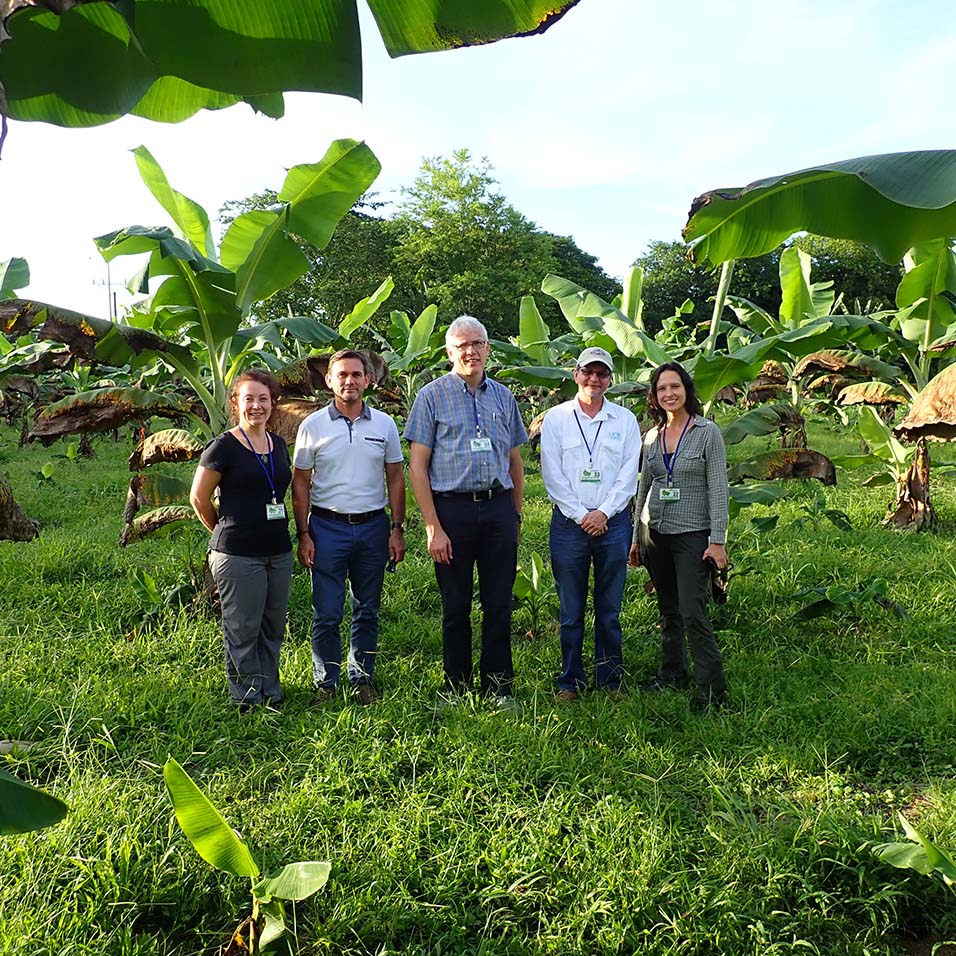 "In Costa Rica we visited banana plantations, inspected Moko eradication sites, collected samples of symptomatic banana plants, isolated the bacterium causing Moko, examined cultural morphology and extracted DNA of the pathogen. The National Banana Corporation of Costa Rica (Corbana) also provided DNA from their Moko culture collections. The DNA returned to Australia was used to validate the molecular diagnostics for both Moko and blood disease," said Jane.
"During various meetings, I had the opportunity to update scientist on my current research on blood disease in Indonesia. Sharing valuable insights about banana blood disease, its biology, symptoms, current dispersal and diagnosis was also of value to the scientists and banana producers in Costa Rica," said Jane.
"Gaining an understanding of methods used in Costa Rica to manage the disease in commercial banana plantations was enlightening and learnings will be applied to my current PhD research on the biology of blood disease in Indonesia," she said.
"My PhD research is part of a large program on emerging banana diseases funded by Horticulture Innovation Australia under the leadership of Prof André Drenth. Dr Lilia Costa Carvalhais, who is part of Prof Drenth's banana research team, led this part of the project investigating Moko in Costa Rica," said Jane.
Costs associated with this activity were also funded by the National Plant Biosecurity Diagnostics Network grant for Moko Diagnostic Protocol Development, Horticulture Innovation Australia project BA 16005, and The University of Queensland.
"Because of this opportunity, I have gained unique practical experience and learned from an experienced team of plant pathologists about the management of this disease. I have been able to adopt and apply the learnings to my current ongoing research project on the biology of blood disease in Indonesia," said Jane.
"This Award has enabled an exchange of ideas and knowledge across vast geographic distances that will help to further the research into the control and management of the banana bacterial wilts, and it has allowed me to develop valuable networks for future projects," concluded Jane.
---
This story was first published on the Crawford Fund website on 14 May 2020. 
Contact: Jane Ray PhD candidate, Centre for Horticulture Science, Queensland Alliance for Agriculture and Food Innovation, The University of Queensland, E: j.ray@uq.edu.au or Professor Andre Drenth, Professorial Research Fellow, Horticultural Science, QAAFI at The University of Queensland, E: a.drenth@uq.edu.au or T: +61 7 344 32460.