She was the face of The University of Queensland's 2015 Create Change advertising campaign – but now QAAFI avocado researcher Louisa Parkinson has proven her scientific mettle.
Ms Parkinson, who graduates on Saturday, 9 December with a PhD, has discovered three new species of fungi and fungal pathogens that cause disease in avocados.
"I felt very proud to be able to name the first one, Gliocladiopsis peggii, after Ken Pegg, who is a prominent plant pathology researcher in Australia and a very important mentor to me," Ms Parkinson said.
"He was over the moon. To have a new species named after you is quite special, I think."
Discovery of the new species in the Nectriaceae family will help researchers better understand the fungal pathogens which cause black root rot in avocado, a major disease affecting the avocado industry that can wipe out entire new orchard plantings.
"I also developed a molecular test to diagnose the presence of these pathogens which will help avocado growers quickly put strategies in place to manage disease," she said.
Ms Parkinson enjoys analysing DNA and the molecular side of her work.
"Diagnosing diseases is all about problem solving," she said.
She also enjoys the interaction with the avocado industry and communicating her research with growers.
"I feel like my work will help make a difference to the avocado industry," she said.
Creating change at UQ is nothing new to Ms Parkinson. In 2015 when UQ launched their advertising campaign with the 'Create Change' tagline, she answered a call for auditions on UQ's Facebook page and was selected to audition, winning the part from other students and professional actors.
"It was a full-on Hollywood experience," Ms Parkinson said of the advertisements that featured her on television and on billboards.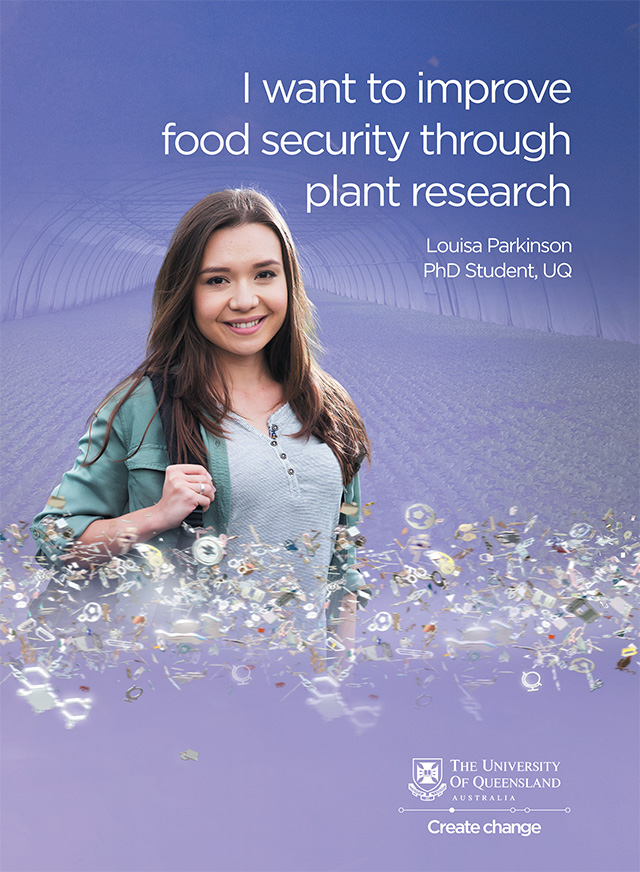 "They filmed part of my scene with remote-controlled flying camera drones. The film crew were 100 metres away and the director was shouting "action," "cut" and directional cues through a speaker, just like in the movies. They also filmed me up close and with special lighting equipment and the whole film crew standing in front me, watching. It was very exciting and nerve-wracking."
"My face is still on UQ's inter-campus buses and it always makes me smile when I see that."
Her family were also very proud. "My family have taken photos at my billboards. The number of selfies Mum and I have taken with my picture is quite funny."
Ms Parkinson has been recognised by members of the public and other staff and students.
"On several occasions I have been at the movies and the Create Change advert came on before the film and it felt so awesome and totally surreal seeing me on the big screen in the theatre," she said.
"I will treasure those moments, and never forget it. This whole experience has been truly memorable and I am so grateful."
Although a Brisbane local, Ms Parkinson identifies as Filipino-Australian.
"I was born in Queensland, but I do have a Filipino background and I like to promote my heritage as well as participate in my mother's culture," she said.
Her favourite avocado recipe is a Filipino dessert made of mashed avocado mixed with sugar or honey and a splash of evaporated milk.
"This may not sound appetising as avocados are famously made in savoury recipes. But it is actually very delicious," Ms Parkinson said.
"Mum used to make this dessert for me as a child and I still love to eat it."    
Ms Parkinson now works for the University of Queensland at the EcoSciences Precinct in Dutton Park as a Research Officer for the avocado industry.
---
Media: Louisa Parkinson, 0432 336 700, l.parkinson@uq.edu.au; Margaret Puls, Queensland Alliance for Agriculture and Food Innovation, m.puls@uq.edu.au, +61 419 578 356.