Fifteen PhD students inspired a packed out room on Monday with their three minute thesis (3MT) presentations. 
The three judges with the hard task of selecting the winners were Dr Wayne Hall, Department of Agriculture and Fisheries Queensland, Professor Ross Barnard, The University of Queensland, and Duncan Ferguson, UniQuest. 
2017 3MT Winners:
Gold: Anahita Mizani, "Size does matter!", Centre for Plant Science.
Silver: Katie Merryn O'Connor, "Cracking the Code: Using DNA to find the top crop of macadamias", Centre for Plant Science.
Bronze: Zhi Xian Lim, "Hijacking the bollworm immune system", Centre for Plant Science.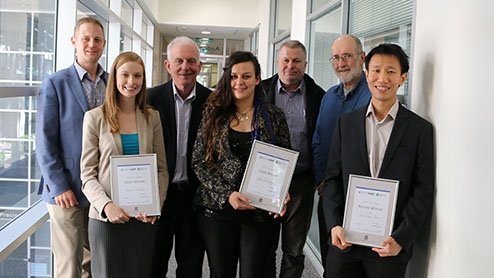 The winners go on to compete at the All-Institute 3MT competition, on 3 August. 
Developed in 2008 by the University of Queensland, 3MT is a fantastic opportunity for students to share their research with the wider community and gain invaluable experience developing their presentation skills.
Taking the form of a research communication competition, students must meet the challenge of effectively explaining their research in under three minutes to a non-specialist audience.
Students gain invaluable experience developing presentation skills, and gain the opportunity to network with fellow researchers and industry bodies as they progress through the ranks of the competition.