A University of Queensland plant scientist has been recognised for his outstanding contribution to grain research in Australia.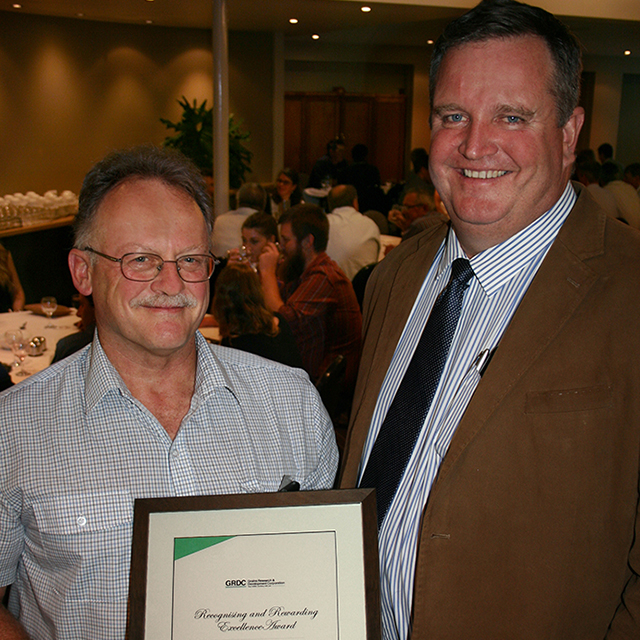 The Grains Research and Development Corporation (GRDC) presented its Recognising and Rewarding Excellence Award to Professor Mike Bell, from the UQ School of Agriculture and Food Sciences and the Queensland Alliance for Agriculture and Food Innovation (QAAFI), at the GRDC Grains Research Update dinner in Goondiwindi last week.
"It's a tremendous honour to receive this award," said Professor Bell (pictured with GRDC northern panel chair Mr James Clark).
"It's a privilege to have worked with the many dedicated growers, advisors and researchers who have made the Australian grains industry what it is today.
"Improving the productivity of grains systems is critical for our ability to meet the food demands of a rapidly expanding global population.
"However with finite reserves of productive crop land, it is essential that we balance crop removal with appropriate nutrient inputs to ensure land use is sustainable."
Professor Bell said balancing the competing demands of profitability and long-term sustainability was the challenge at the core of much current grains research.
"I am extremely grateful to my research team and collaborators, as well as the funders of my research, for their support through the years," Professor Bell said.
The award comprises a travel bursary aimed at extending key Australian research scientists' professional networks and collaborative research opportunities, for the benefit of the wider grains industry.
GRDC northern panel chair Mr James Clark said Professor Bell was an outstanding industry leader with a proven track record in delivering useful and practical information to growers, managing research and development projects, and mentoring young researchers.
"Professor Bell has an exceptional ability to deliver practical information to growers that can help improve their crop and farming system management year-in-year-out," Mr Clark said.
"He is also widely respected as an innovative and forward-thinking leader when it comes to managing research projects.
"At the same time, his contribution to the future capacity of our industry can't be underestimated – a number of researchers began their career under Professor Bell's mentorship."
Over more than 30 years, Professor Bell's research has helped the industry to better understand soil nutrient concentrations and behaviour, which in turn has enabled growers to more accurately estimate crop yield potential and to implement more targeted fertiliser programs.
"Professor Bell's ongoing work is making an enormous contribution to sustaining the industry's crop yield potential and profitability into the future," Mr Clark said.
Professor Bell joined QAAFI's Centre for Plant Science in October 2010, after a 27-year research career with the Queensland Department of Primary Industries.
He has recently been appointed as chair in Tropical Agronomy at UQ, and has led a number of GRDC-funded projects.
His research interests are in soil organic matter, crop nutrition and nutrient management, as well as in the interactions between management practices, crop root systems and soil biota.
Professor Bell is a strong advocate for sustainable land management practices, especially in broad acre cropping regions, with a strong focus on nutrient and carbon dynamics.
Professor Bell is a past recipient of a  GRDC Seed of Light award, which recognised his contributions in communicating research outcomes to industry.
Media: Sarah Meibusch, Deputy Director, Business Development and Engagement, QAAFI (+61 7 3346 0585, sarah.meibusch@uq.edu.au); Ann Keep, Manager, School of Agriculture and Food Sciences (+61 7 3365 2592, a.keep@uq.edu.au);  Aarti Kapoor, Faculty of Science Engagement Officer (+61 7 334 60808, a.kapoor@uq.edu.au)