Women in STEMM 2020 entrants
​Stop the blotch to get quality barley and better beer
Entry for:

  2020 Queensland Women in STEM Prize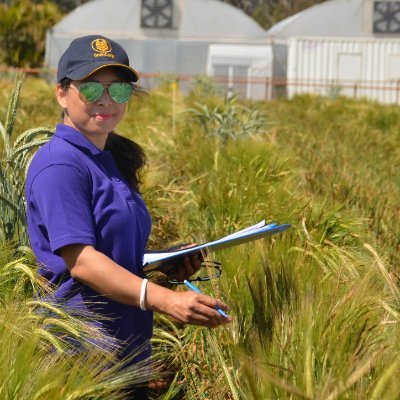 1. SUMMARY
Barley is the second most important cereal crop grown in Australia. Here, the majority of two-rowed spring barley cultivars are susceptible to the spot blotch disease which is caused by a necrotrophic fungal pathogen. Due to higher temperature and higher relative humidity, spot blotch disease of barley could more likely to be a problem in sub-coastal areas and mostly northern part of Queensland. So my research aims to provide a better understanding of the genes controlling spot blotch disease resistance, so that plant breeders can assemble new barley cultivars incorporating effective genetic resistance to spot blotch disease. The most innovative part of my research involves spot blotch disease resistant barley varieties development using speed breeding to rapidly transfer the new sources of resistance into susceptible malting barley varieties. The ultimate goal of my PhD research is to increase the durability of genetic resistance in barley breeding populations over time. 
2. BENEFIT
Australian barley is highly demandable crop worldwide and it is used mainly in the brewing industry and for animal feed. About 2.3 million tonnes of malting barley and 6 million tonnes of feed barley is grown each year in Australia. In Queensland, the main breweries are in Brisbane and Yatala and the northern region is the major supplier of malting barley to the malt houses in Brisbane and Tamworth. Australian malting barley demand is increasing day by day for more beer consumption. However, most of the commercial barley varieties are susceptible to the spot blotch disease which could affect the economics on malting barley production. So, I am really motivated to increase the malting barley production by overcoming the spot blotch disease infection by selecting varieties with high levels of resistance.
We have science and technology and we can control this spot blotch disease of barley by harnessing genetics, deploy resistance gene in the crop variety. The deployment of disease resistant barley varieties could contribute the most efficient, sustainable, eco-friendly and profitable strategy on barley production. It could reduce the need for fungicide applications on the farms and could be the great deal to the barley consumers as well as to the environment. Besides this, to control this disease infection, the chemical residues in barley can hamper in trade markets as well as can affect human health negatively.
There is very limited information about spot blotch disease resistant barley varieties and very limited research on spot blotch disease in Queensland because of other important foliar diseases of barley crops. However, due to the adoption of minimum tillage practices and climate change, this disease could be more problematic and could results severe crop losses in future. The most significant outcome of my research results could provide a better understanding of disease resistance and support development of improved resistant cultivars for Queensland farmers.
To help the Queensland farmers and barley industry, I am actively involve with Grain Research and Development Corporation (GRDC) and Department of Agriculture, Fisheries and Forestry (DAF) people to do the research on spot blotch disease in field and greenhouse condition. To dissect the genetics of spot blotch resistance, I am using Australian elite barley breeding materials via novel approaches. We anticipate this will provide useful insight and molecular tools for eliminating susceptibility alleles from breeding populations and will support development of resistant cultivars for farmers. I involved in field experiment, for spot blotch data collection and presented the outcomes in some research conference and symposiums. After that, I received expression of interests from QLD scientists and other states people to share my resistant barley varieties selection methods and other research updates.
Moreover, my research outcome will contribute more accurate and reliable information to the breeding industries, research scientists and farmers of Queensland.
---
Clay innovation: sustainable alternative to pesticides for protecting Queensland
Entry for:

  2020 Queensland Women in STEM Prize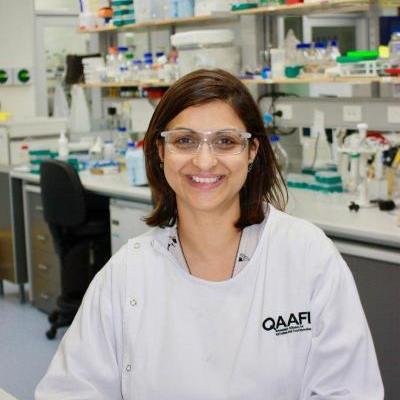 1. SUMMARY
Queensland's livestock industry is the backbone of many rural and regional Queensland communities. Our livestock industry is under threat from one of the world's worst invasive species, the Red Imported Fire Ants (RIFA), and the fierce parasite of sheep 'Blowflies' damaging the Queensland's resurging sheep/wool industry. Control of fire ants and sheep blowfly almost exclusively relies on chemical controls; blowflies have already developed resistance to nearly all control chemicals used in the past.
My research is developing a platform technology to deliver an innovative non-GM, non-toxic, environmentally sustainable solution to combat these two major issues. The distinctive biodegradable clay particles as carriers to deliver nucleic acids are being exploited for fire-ants and blowflies. The respective projects in collaboration with industry partners will deliver a much-needed sustainable and animal welfare-friendly product positively transitioning the development of clean green control measures to increase the export potential, competitiveness and long-term profitability of Queensland.
2. BENEFIT
Queensland is an extraordinary state and a world leader in livestock production and is Australia's "frontline" state for Biosecurity. RIFA were first detected in Brisbane in 2001; in September that year, the National Fire Ant Eradication Program (NRIFAEP) was formed in partnership with state governments. There have been eight reported established incursions and post-quarantine detection of RIFA in Australia; four incursions and three post-quarantine detections have been in Queensland. In 2001, the Australian Bureau of Agricultural and Resource Economics predicted to cost Australia $8.9B over 30 years if the ant was not controlled. The most recent analysis indicates the total impact to South-east Queensland alone will top $45B over 30 years, threatening every aspect of Queensland way of life. If the RIFA are established permanently, they will have serious health and environmental impacts.
Strong industry support from NRIFAEP of Biosecurity Queensland for this research will deliver a bold and innovative solution to eradicate RIFA through the application of innovative Clay particles, a Queensland-owned and invented, easy to adopt, environmentally sustainable platform to positively influence ≥ 20 sectors of Queensland economy.
Australia produces best quality lamb meat and is world's number one producer of premium quality fine wool, and largest producer of all wools by value and volume. The most recent Agricultural Census saw Queensland take the mantle as nation's most valuable agricultural state, while beef was the biggest commodity, many primary producers are moving back into sheep. The sheep blowfly research supported by industry partner Boehringer Ingelheim and regional Queensland growers will further strengthen Queensland's expertise in sheep industry by delivering a non-GM Clay/RNA interference (RNAi) technology, which will have global competitive advantage for rapid industry expansion accompanied by fewer global trade restrictions.
The development of this clay platform technology is timely in light of a call in Europe for a transition to chemical/pesticide-free agriculture, which resonates with EU Directive 2009/128/EC. If such a transition were to eventuate, the flow-on effect for Queensland producers would be extremely problematic. Queensland producers will need non-chemical alternatives such as Clay/RNAi to replace chemical-based pesticides.
Today's consumers who make informed and discerning choices will benefit in the knowledge that Queensland's non-GM Clay technology will provide effective control solution without chemical residues for diverse targets like fire ants and sheep blowflies.
Tangible outcomes anticipated from my research projects are:
1.    Background work and patents in place for the multidimensional Clay technology will ensure that the Clay-RNAi is delivered as an alternate non-chemical, non- toxic strategy, a key to adoption of technology for increased growth and competitiveness.
2.    Strong support from NRIFAEP for fire ants; and Boehringer Ingelheim for sheep blowfly will ensure extension of the existing Clay innovation.
3.    Queensland established as an innovation leader for producing premium products with environmental and animal welfare credentials for increased export-trade.
4.    Increased job opportunities at farm gate and first-stage processing, through skilled workforce training, technology implementation and industry expansion.
5.    Commercialisation of IP arising from this project to deliver valuable royalties and products for Queensland.