Each year QAAFI Higher Degree Research students challenge their communication skills in the exciting Three Minute Thesis Competition.
Developed in 2008 by the University of Queensland, the 3MT is a fantastic opportunity for students to share their research with the wider community and gain invaluable experience developing their presentation skills. Taking the form of a research communication competition, students

must meet the challenge of effectively explaining their research in under three minutes to a non-specialist audience. Students gain invaluable experience developing presentation skills, and gain the opportunity to network with fellow researchers and industry bodies as they progress through the ranks of the competition. 
Can't make it? This competition will be live streamed here on the 24th of July 2017. We are starting at 10 am.
Venue
Room 3.142, Level 3, Queensland Bioscience Precinct, Bldg. 80, St Lucia, Brisbane
This competition will be live streamed here. We are starting at 10am, 24 July 2017.
The winners of the QAAFI 3MT will have an opportunity to participate in the All-Institute 3MT final and the chance to compete with the best presenters from across the University. Winners of the UQ finals have the chance to win travel grants and to represent UQ at the Pacific finals.
Key dates in 2017
26 April
Graduate School Student Information Session
8 May
Competitor registration open
2 June

Competitor registration closes/ Audience registration opens

30 June
Audience registration closes
13 July
QAAFI student practice session
17 July
Due date for competitor slides submission 
24 July

QAAFI 3MT
Large Seminar Room (3.142), QBP Building 80, St Lucia

TBA
All-Institute 3MT final
13 Sept
UQ 3MT Final
29 Sept
Asia-Pacific 3MT Competition
Expected outcomes for you
Skills training for HDR students
The exercise develops academic, presentation and research communication skills, while developing research students' ability to effectively explain their research in language appropriate to a non-specialist audience.
Building research culture in schools and institutes
3MT provides a valuable opportunity for HDR students to come together, get to know one another and talk about their research. It also provides a supportive environment in which Schools and Institutes can provide presentation skills training.
Building external relations for the University 
Each 3MT winner will go on to represent their university at the Trans-Tasman 3MT Competition which, in itself, provides an excellent networking and professional development opportunity.  It has been found that 3MT finalists also benefit from invitations to a variety of other networking events following their participation in the competition.
2017 Prizes
QAAFI 3MT - To be confirmed
All-Institute 3MT Final - To be confirmed 
UQ 3MT Final - Winner $5000 research travel grant; Runner-Up $2000 research travel grant; People's Choice $1000 research travel grant
Asia-Pacific 3MT - Winner $5000 research travel grant; Runner Up $2000 research travel grant; People's Choice $1000 research travel grant
Useful links
Ghanendra Gartaula, PhD Candidate, 2016 3MT QAAFI Winner, All-Institute 3MT Winner and UQ 3MT Finalist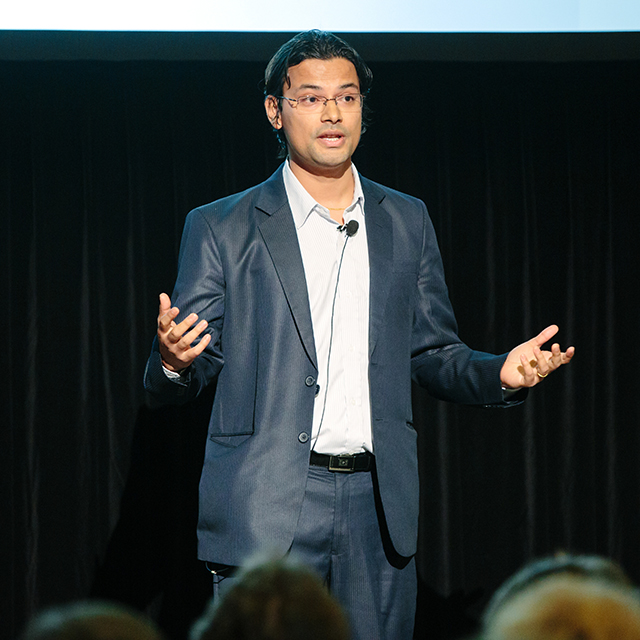 "3MT is really a wonderful platform to share your research findings to people who do not understand the technical writings in the research paper or thesis. More than that, it gives you a chance to reach to a wider range of people. No one should miss this chance to develop your self-confidence in communication skills which is a must in the career pathways. Please be a part of this event. Who knows, you could be the person-of-the-event next year!"